"My husband is a sociologist from Washington and I am an artist from New York. My husband and I's meeting has always seemed kismet to me, even though we met through a dating website. I had lived for several years in Seattle, WA before deciding to move back to my hometown in upstate NY. My husband decided to leave WA to pursue his PhD in upstate NY in my hometown. We met in NY even though we had both spent years living close in WA but never meeting. I think it was meant to be! On our first date we bonded over our love for the Pacific Northwest. For our wedding I wanted to infuse touches of the Pacific Northwest with moss and woodland décor that celebrated both our love for camping and my artwork. Our wedding was filled with DIY projects and unique touches. We had a flower man instead of a flower girl, a whiskey aging ceremony, a food truck, home brewed beers, handmade décor, a mother/daughter dance, and temporary tattoos!" – Mary, the bride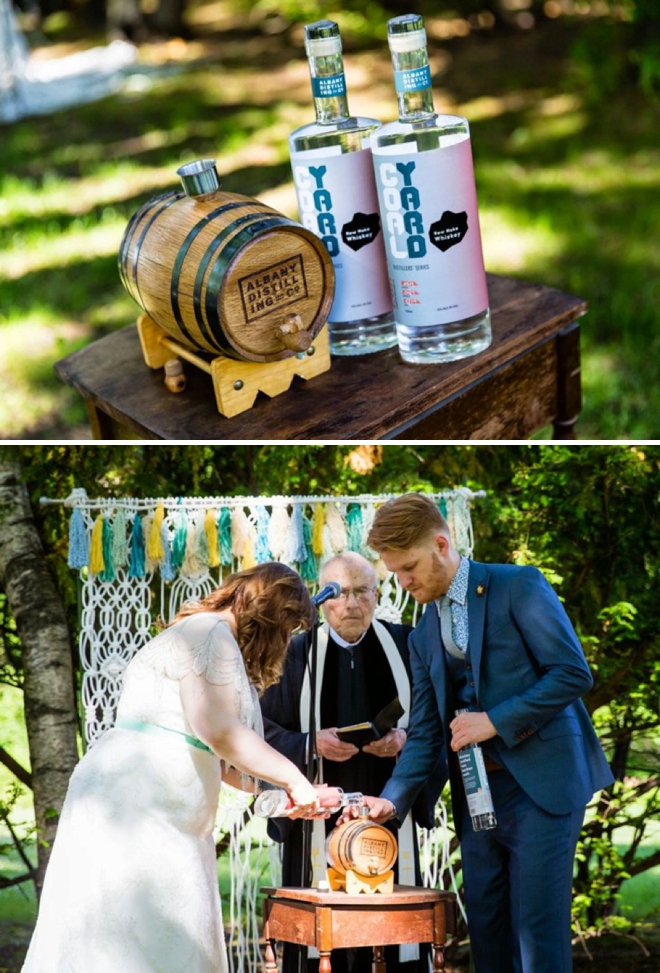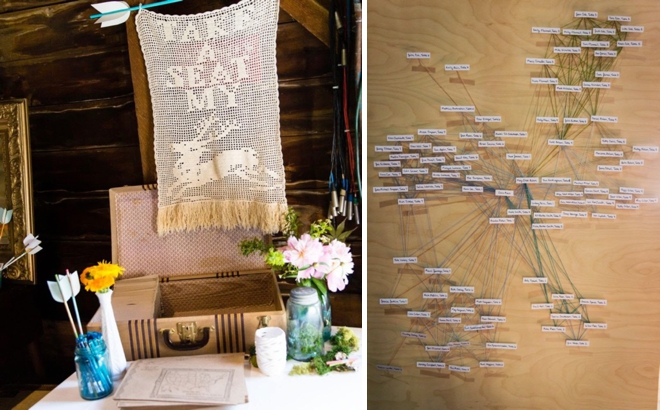 What is your favorite wedding day memory?
The whole day was such a rush of nerves and excitement. I do remember all the love I felt that outpoured from all our guests. One of my favorite moments was my mother-daughter dance. My mother raised my brother and I on her own. She supported me so much and provided the budget and some talent to help pull together the wedding. I wanted to thank her by having all our guests get up and dance in her honor. I choose an unconventional song, 'My Sharona' by the Knack, which we used to dance to in car rides together while growing up. I loved how all my guests who were able got up to dance!
What did you DIY for your wedding?
We made a lot of the details for the wedding, maybe even took on too much. Having a fine arts background I knew I HAD to make and design everything. I made all the stationery including hand embroidering 100 RSVP cards, sewing napkins and garland, making wooden arrows for décor, embroidering all the table numbers, designing temporary tattoos, marquee letters, and painting a photo booth back drop. My husband and I brewed three types of beer and I designed the labels. We also worked together to create a network map for the seating chart. My mother sewed all the bridesmaid dresses, made the macramé back drop for the ceremony, and baked pies for the dessert table.
Something old, new, borrowed and blue?
While I didn't purposely follow this tradition, having items from my ancestry at the wedding were important to me. I spent months trying to finish a tablecloth my great grandmother started to have on our sweetheart table. My mother gave me her original engagement ring from my father, it was his grandmother's ring as well. It had been missing the diamond for years and my mother had it reset with a blue sapphire for me. I guess it counts as something old and something blue!
Any advice for brides currently in the planning process?
If you have DIY projects, start them early! We had a 14 month long engagement and I used most of it to make all my DIY projects. You don't want to be hurrying at the last minute to complete projects, so it's better to be done early. I recommended splurging on a good photographer to capture the day and make sure they share your aesthetic. Finally, I would advise DIY brides to hire a day of coordinator or designate a trusted friend to do it. I thought I could do everything, but on the morning of the wedding I was busy getting ready so I wasn't able to help put the finishing touches together. Thankfully my mother knew my vision. If you have someone to execute all your DIY projects the day of then if frees you and your partner up to just enjoy the day. Oh, and wait…one more thing: Remember there are no rules. Make your wedding how you want it to be! – Mary, the bride
Event Credits
Photographer: Bryer Photography // Venue: The Pruyn House // Caterer: Slidin' Dirty // Cake: Momofuko Milkbar // Florals: Flowerscout // Event Design: (the bride) Mary Elise Rees // Dress: Bridal Gallery by Yvonne // Brides belt: Michy Lou // Bride's caplet: BHLDN // Hair + makeup: Lipstick n Lashes // Groomsmen's Lapel pins: Sketch Inc. // Officiant: Grooms Grandfather, Wilbur Rees // Ceremony Band: The Parlor
No related posts found.