For the first wedding feature of November, we bring you a beautifully handmade affair that was submitted by the bride! Almost every single detail from Ryan and Anastasia's Napa wedding was carefully created by the couple and their family to fit their theme and personalize their day beyond compare. From the brides stunning dress designed and sewn by her mother to the lovely ceremony arch… it was all DIY! Make sure to scroll to the end of the feature and read Anastasia's wonderful advice and list of all of the amazing projects they conquered!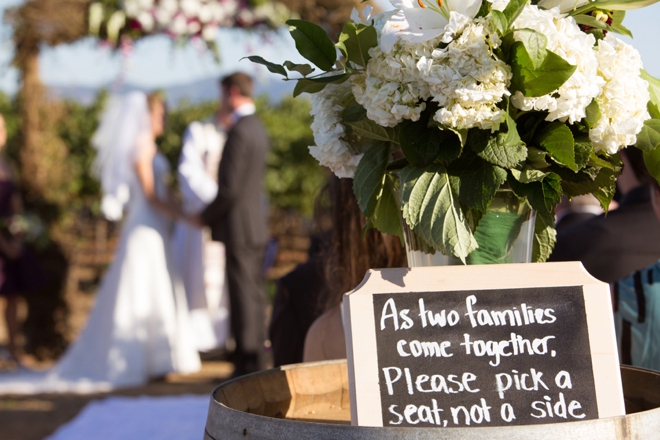 What is your favorite wedding day memory?
We had 70 guests in total, including us, at the wedding. Our aim was to create an intimate atmosphere where we could spend time with each attendee and have everyone get to know each other as part of our now-bigger family. The biggest testament to our success, and our favorite wedding memory, came at the very end of the celebration. The DJ played Toto's "Africa" as the last song, and everyone joined into six concentric circles around us, singing and dancing along with us at the center. We have never felt so much love in our life!
What did you DIY for your wedding?
Our wedding was a major DIY undertaking. While it may be easier to list things we did not personally do, it is far less fun. Our accomplishments are as follows:
My wedding and bridesmaids dresses: After a handful of uninspired boutique visits, my mother, Svetlana, and I sat down and started developing the dress of my dreams. A successful software engineer by day, my mother was also an amateur seamstress, having learned the craft out of necessity in Soviet Russia. Over three months, she spent long nights searching blog posts, reading books and consulting fabric stores in the area to familiarize herself with the materials and machines available for creating her daughter's one-of-a-kind gown. The work on the dress was tedious, with multiple versions of each portion of the dress going through multiple fittings. The first corset fit well. The second was practically perfect. By the third attempt, my mother had engineered a perfect lace-up corset with a zipper and 40 gown buttons (which is unprecedented, as it is always lace-up or zipper). In the mean time, my husband and I combed the fashion district of Los Angeles for the best silks and French lace available. An unstoppable perfectionist, my mother worked on draft after draft of each element until we had THE dress – one that moved with me, survived three hours of unbridled dancing with not a single ounce of discomfort, nor detachment from the body or loose boning, thread or fabric. Unbelievably, she also found time to make all five bridesmaids' dresses from raw silk with silk lining. For the feat of engineering and limitless amount of love that went into my wedding dress, I will forever be grateful to my wonderful mother.
Flowers: One of the primary advantages of an outdoor wedding is the naturally scenic beauty. That said, flowers were still a must and I appointed myself as the wedding florist. I scoured the internet for instructional videos and made frequent trips to the San Francisco Flower Mart, a top five flower wholesaler in the U.S., to see what was in season and to evaluate prices. In the end, I would have been entirely lost without the In Water Flowers bouquet-making class. The hands-on experience was far superior to anything available online. On the Thursday before our Saturday wedding, my parents, Ryan and I entered the Flower Mart at precisely 9:58am. I handed out copies of a spreadsheet detailing the exact quantities of each flower to purchase. In the case of most flowers, we could be flexible, but the purple callas were a must. From the flower mart, the flowers were carefully stored overnight in a combination of new garbage pails, coolers and any other sizable watertight containers we could find, to be transported to the bridesmaids' Napa house the next morning. After Friday morning's wedding rehearsal, my bridesmaids and I went to work. Seven hours later, we had six bouquets, 10 boutonnières, 15 centerpieces, a homemade cake stand, eight aisle markers and two large ceremony vases. The rest of the flowers would go into decorating the handmade altar.
Altar: At first light on Friday morning, the groom could be found climbing up our 3-story back patio, manually clipped hundreds of yards of vines from the ins-and-outs of our wooden lattice work. Though his hands were scraped, our DIY motto was "it will heal by the wedding." Ryan and his father, Robert, secured what looked like a mile of vines to the top of their minivan for the drive to north to Napa. Robert, a former heart surgeon turned master craftsman, built from scratch the wooden frame for the altar. On Saturday morning, the self-proclaimed "Flower Girls", which included the groom's mother Barbara and two of her friends, got together to create a true masterpiece that beautified the altar. Complete with a barrel for the wine ceremony, it was a breathtaking sight for the ceremony.
Vine balls: Using an inflatable beach ball and hundreds of feet of wire, I spun the vine from our backyard into gorgeous vine balls – best tutorial here. Strung with battery-operated LED lights, these made an enchanted glimmer over the dining tables when strung up on the trees.
Place and table markers: We glued wine corks, from personally-consumed bottles of wine, together to create place card holders, spray-painted these empty wine bottles with blackboard paint and chalked in our favorite grape varietals, such as Bordeaux, Barolo and Viognier, in place of the traditional numbers for tables.
Jewelry: I crafted my own wedding-day jewelry from pearls and carefully spaced Swarovski pave beads for just the right amount of sparkle.
Invitations and Stationary: We crafted all the pocket invitations, menus and place cards using beautiful blank stationary from www.lcipaper.com. We printed everything using laser printers at home. The design on each invitation involved learning work with vectors and photoshop to get the colors just right.
Welcome gifts: We felt it was important to warmly greet each guest as nearly every guest would be traveling a great distance by plane to attend our event. To this end, we made hotel welcome bags from brown paper gift bags, combined with stamps and purple paint for a "custom" bag (it even included an event date from the numbered stamps). Each guest was greeted with a homemade lavender shortbread cookie, Stacy's chips, apple and a bottle of water as they arrived at their hotel.
Favors: As a commemorative gift for guests, we chose mason jars. A groomsman mastered laser engraving at TechShop and, together with Ryan as designer, created beautiful jars with a custom design, as well as etched wine glasses for the bridal party and family.
Ceremonial Breadcloth: My grandmother crocheted and embroidered a beautiful bread cloth for the traditional Russian bread ceremony.
Custom photo guestbook: we created a photo book with pictures of us but also with questions on each page such as "where should we go for our 10 year anniversary" and "who do you think wears the pants in the relationship" to entice guests to be creative in their answers. To identify the guestbook as such, we printed a label for a magnum bottle of wine placed next to the guestbook with instructions to sign it.
The list goes on and on with embroidered table runners (using a borrowed embroidery machine), blackboard signage, and re-painting of hair on a cake topper to match our hair color.
Last but not least, one of the groomsmen created a beautiful wedding certificate for us to have something ornate to hang on our wall.
We could not have done this without our friends and family, and we express the deepest gratitude to each and every person who attended!
Something old, new, borrowed and blue?
Of course!
As something old, my mother had used a piece of lace that was left over from when she made her own wedding dress to sew into the veil.
Something new was a set of undergarments from La Perla worn on the day of the wedding.
Something borrowed was a dear friend's pearl that I used in my bouquet, attached to a pin.
Lastly, my mother sewed in a blue heart into the corset with thread she has had since before I was born.
Any advice for brides currently in the planning process?
Our first advice is to plan the wedding in sequence, adding new elements to the existing theme only if they fit. Consider, but don't try to incorporate all ideas from Pinterest/Blogs/Friends and Family, as they are sure to create an incongruent mess. We decided on a wine and Tuscan theme and chose everything, including the design of the dress, so that it was all aligned with that theme.
My other suggestion is to please surrender your phone to a friend or family member for the day before and on the day of the wedding. Guests will miss flights, flower vases may get broken, an officiant may run late. There should be a person empowered to handle all these issues so that you may enjoy your day. Your big day should be a time of fun and eager anticipation, not stress over the little things!
Last but not least – the big day means so much more than anything that will go right or wrong. Please have fun, share the love and be merry! – Anastasia, the bride
Event Credits
Photographer: Lily Rose Photography // Wedding Planner: Dreamers and Heroes // Cake: Gerhard Michler // Officiant: White Robed Monks // Brides dress and Bridesmaid dresses: Dresses by Svetlana // DJ: DJ Celeste Lear // Flower arranging classes: In Water Flowers
No related posts found.