"I absolutely loved being a part of Tiffany + Robert's wedding day. Homewood was the perfect venue for their fall wedding. I loved all the DIY details and personal touches. Tiffany was such stunning bride. Her dress was so pretty and went so well with their outdoor ceremony. The ceremony was held in the woods down a long walkway. It was simply beautiful. The sunlight beamed through the trees and made everything look so magical. Tiffany and Robert celebrated with family and friends late into the night. It really was the perfect fall wedding!" – Grace Hill Photography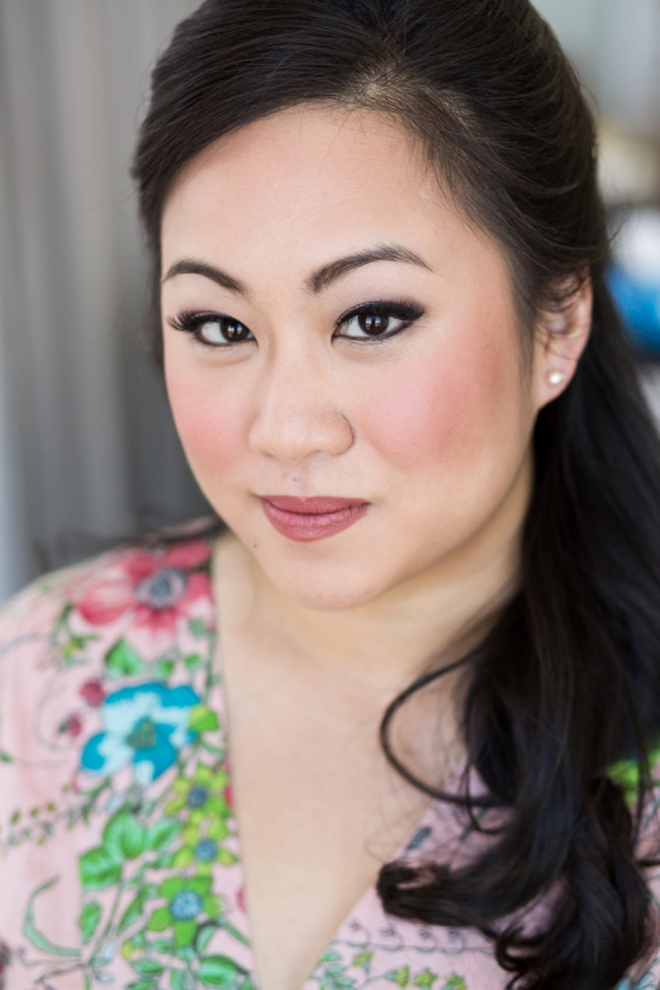 What is your favorite wedding day memory?
For most of our relationship and several months into our engagement, my husband and I were in a long distance relationship. Admittedly, discussing wedding details and everything it entailed created frustration since he couldn't see what was going on the same way I could being more hands-on with the process. During dinner at the reception, he turned to me and said, "Everything about this day is amazing."
Also, having all of our friends and family in one place having a blast was so wonderful. We really felt so much love in that room that day!
What did you DIY for your wedding?
The centerpiece vases our flowers rested in for each table-a set of three different-sized mason jars that I spent a weekend covering gold glitter (I was finding tiny specks of glitter on my dining table for months afterwards). I made table numbers that were held in place with wine corks, stamped favor bags that were stuffed with our favorite candy with the phrase "Sweet Farewell," curled strips of paper and handwrote each guest's name as part of the seating arrangement (we used gold pins to attach each curled strip to plums- another something sweet for guests), stuffed little cotton drawstring bags with lavender for a "lavender toss" during our getaway, made simple cake toppers… I even drew our guestbook – a mason jar (our last name is Mason so it seemed fitting) that we had blown up and placed into a frame. Our guests used their thumbprints to create fireflies! Lastly, I took on the task of making three small cakes- a chocolate cake, strawberry cake, and vanilla cake… My sister and mother made an apple and blueberry pie, and my mother-in-law made shoe-fly pie, a Mason family tradition!
My sister, who served as maid of honor, was a huge part of helping me with the DIY projects for the wedding. She designed our save the dates, invitations, menus, and other paper products for our wedding, including a huge banner that hung over the fireplace in the reception room. She also designed the cutest beer bottle labels in honor of our sweet pug that we used for home-brewed beer gifted to us by dear friends, which we called "Oliver's Brew." She also made the wooden posts that directed guests to the ceremony site and reception site, along with making magnolia garlands for our chairs at our sweetheart table, and finding a great mirror on craigslist that we used to write our seating chart on…s he has a much more creative mind than I do, which I am so grateful for.
Something old, new, borrowed and blue?
My something old and borrowed were a pair of pearl earrings of my mother's that were given to her from my dad when they were first married. My something new was a sterling silver infiniti bracelet from Tiffany's that my mother gave me during my bridal shower. My something blue was my sparkly pair of Kate Spade heels!
Any advice for brides currently in the planning process?
While it's an incredibly special and meaningful day… remember it is still just one day. Don't be so hard on yourself! It's so easy to get overwhelmed and caught up in the small things and honestly, most of the things I stressed over in planning I don't even remember anymore. My wedding planner told me one thing that sounds so simple but is so true: as long as you're married at the end of the day, everything went perfectly. – Tiffany, the bride
Event Credits
Photographer: Grace Hill Photography // Venue: Homewood // Wedding Planner: Brittany Ghio at Verge Events // Florist: Studio Flora Diva // Catering: Black Eyed Susan // Cakes: handmade by the bride, pies made by bride's sister and mother // Officiant: Kirk Mason (groom's uncle) // DJ: Mr C's Mobile DJ // Rentals: Classic Event Rental // Dress: Wtoo "Mimi" and Pronovias veil: from Lilly Rose Bridal // Shoes: Kate Spade // Necklace and bracelet: Etsy // Infinity bracelet: Tiffany's // Hair: Oanh Yang from Willow Salon Studio // Makeup: Blush by Wendy Ballance // Bridesmaid attire: J.Crew // Groom and groomsmen attire: Banana Republic shirt, Hugo Boss tie, J.Crew suit // Table numbers, guestbook, invitations and stationary: DIY
No related posts found.