"Carrie and Steve had their wedding at the Capilano Golf Course on the north shore of British Columbia. They had awesome details throughout the day and included lots of personal touches. They included their french bulldog in the outdoor wedding ceremony as well as a butterfly release to symbolize their new life together. Their outdoor reception included a long banquet style table fitted with real candlelight all the way down the table. It seated all the guests with amazing views of downtown and the rest of Vancouver. A fun fact was that Carries parents were also married at the same venue and they recreated a few photos such as the flower toss." – Will Pursell Photography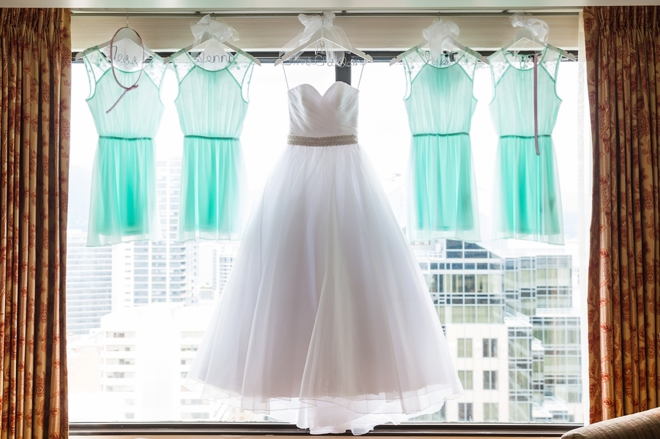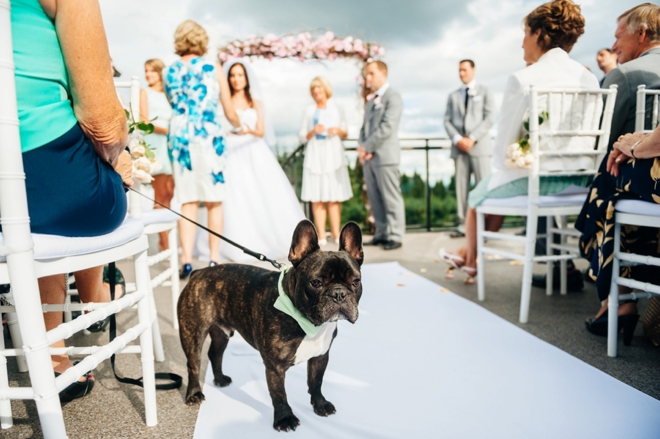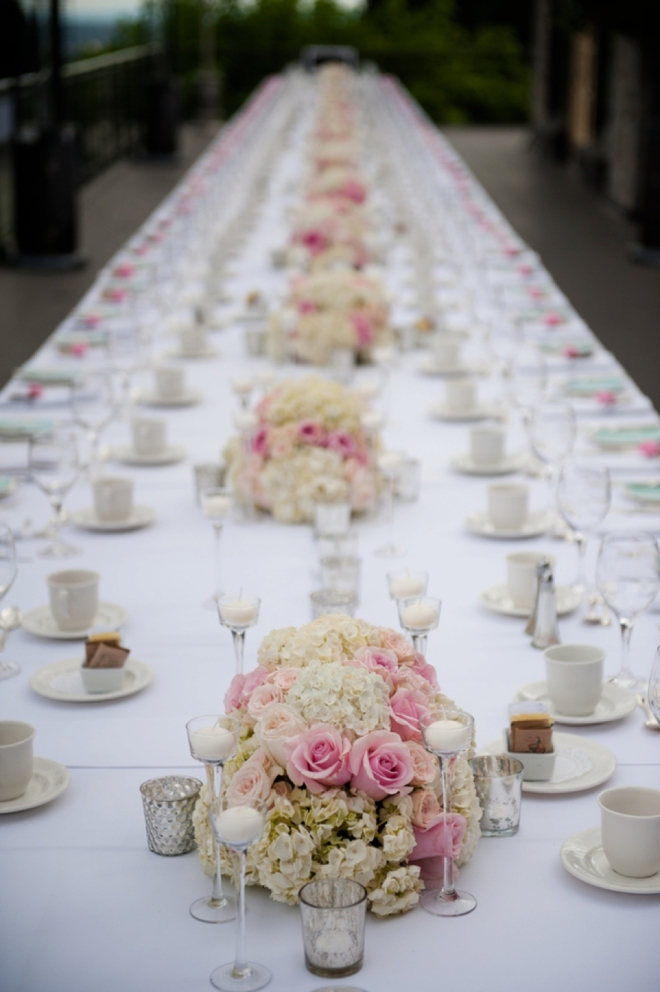 What is your favorite wedding day memory?
I had so much fun at our wedding. My favorite memory is sitting at our dinner table (one table of 100 people) and looking left and seeing 50 of my favorite people and looking the other way and seeing another 50 people that I love. The forecast had predicted lots of rain so I just couldn't get over that it turned out so beautiful and that I got to have my dream wedding.
What did you DIY for your wedding?
My mother in law did all of the flowers (except for the bouquets), she also made the flower girl tutus. My friends helped me with invitation assembly, tissue flowers for the place settings and photo booth props. My mother made the archway for the ceremony out of willow branches and silk flowers. She also made heart shaped graham crackers and marshmallows for the s'mores bar. My friend Karla Lim (from Written Word Calligraphy) did all of the design work and hand wrote the place cards. My sister in law made the chair signs (bride and groom), flower girl basket and my garter!
Something old, new, borrowed and blue?
Yes! Old: My mother replaced 2 of the buttons on my dress with 2 of the buttons from her wedding dress . Blue: My mother in law embroidered my wedding date in blue thread on the bottom of my dress. New: My husband gave me a diamond necklace that day. Borrowed: My mother in law's gold bracelet which her husband gave her as an anniversary present. Also my husbands grandma's vintage broach was on my bouquet.
Any advice for brides currently in the planning process?
Start early, ask for help from friends and family and use a minimum of 8 pages of Excel spreadsheets to organize all of your projects, costs and etc. Try to avoid asking your friends and family to do anything they day of the wedding. They've done enough leading up to the day and should be able to have fun and you should too. – Carrie, the bride
Event Credits
Photographer: Will Pursell Photography // Venue, catering and cake: Capilano Golf Course // Decor flowers: Leslie, the Groom's mother // Bouquets: Kits Market // S'mores bar: Brides mother // Officiant: Doni Gerain // Music: DJ-Dan Bacon, Harpist-Rebecca Blair // Videographer: Laura Ann Cinema // Dress: Bryan's Bridal // Shoes: J. Crew // Hair: Lauren McFadden // Makeup: Candice Stafford-Bridge // Bridesmaid dresses: Forever 21 // Grooms suit: Black and Lee // Groomsmen attire: Blair Shapiro // Decor and Invitations: DIY by the Bride and Written Word Calligraphy // Guestbook: DIY with Photobooth pictures and photo album
No related posts found.