"Kira and Colin got married by the San Diego Mission bay at the Garty Pavilion/San Diego Rowing Club on a gorgeous day. It was so fitting that this beautiful couple got married by the beach because of the couple's Hawaiian ties. It was even more perfect because their wedding venue, the Garty Pavilion has ties to UCSD, where the couple first met…
..I love how the bride and groom truly made their wine theme wedding their very own. They only included wedding traditions that they wanted, putting thoughtfulness and creativity into everything. For example, the bride and groom opted for frozen yogurt from Pinkberry rather than a traditional wedding cake. They also included their dogs or "fur-children", Konah and Bear in the wedding as the ringbearer and the flower girl. Seeing the cute dogs walk down the aisle made all of their wedding guests smile. Kira and Colin are a great couple, and I'm so happy that they chose me to document their wedding day." – Kristine Marie Photography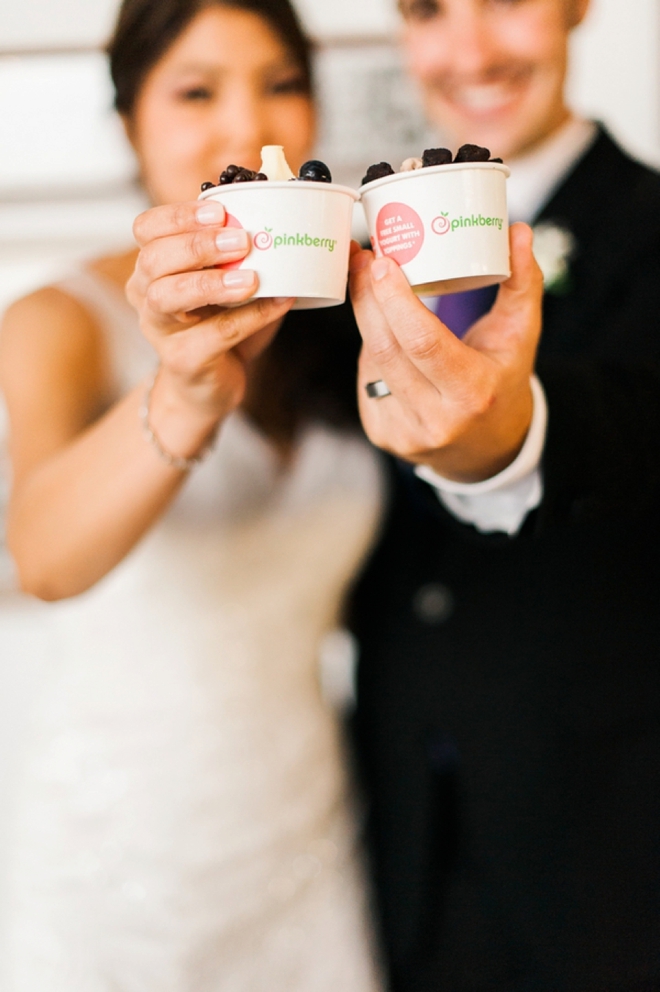 What is your favorite wedding day memory?
My cousins (14 years and younger) spent cocktail hour creating a surprise for me and Colin. I was told that I could not look down at the beach and my family conveniently intervened if I got to close. When my cousins finished, I walked to the edge of the sand and they had gathered, washed, and placed rocks in the sand to write a message. It said, "Kira <3 Colin." I just love them to pieces!
What did you DIY for your wedding?
Besides the bouquets, boutonnieres, and corsages, Colin and I crafted everything else with the help of my students and our family and friends. Colin spent many hours constructing the wine barrel tables that we used for cocktail hour and my grandma and aunts helped with all the floral arrangements that included test tubes, wine bottles, and wine boxes filled with various flowers. Guests had the option to DIY their own wine charms to keep track of their wine glasses and we had flip flops available for aching feet. I am particularly fond of my wine box seating chart that contained a bottle of "Rua" wine (my future last name) in addition to our handwritten vows of course.
Something old, new, borrowed and blue?
Absolutely! I have dated my husband since 2003 and he bought a tennis bracelet for me one Christmas (I can't remember which one…). This was my something old. My wedding dress was something new and I borrowed earrings from my aunt. I tried to find some cute blue shoes, but failed so I found cute blue underwear!
Any advice for brides currently in the planning process?
Make the stress worth it and plan a wedding that is truly your own. Those closest to you will have their own visions of a "proper" wedding, but in the end it is your wedding, your memories. – Kira, the bride
Event Credits
Photographer: Kristine Marie Photography // Venue: (San Diego Rowing Club) - The Garty Pavilion // Day of Coordinator: Auriel O'Neill // Flowers: Wholesale Flowers and Supplies // Catering: To The Point // Dessert: Pinkberry // Officiant: James Magid (friend) // Music: DIY - iPod mix // Rentals: Party Production Rentals // Hair + makeup: Jodie Latzsch (aunt) // Dress: Oleg Cassini // Bridesmaid dresses: self-picked // All decor, favors, table numbers, wine charms, guestbook and more: DIY-ed by the bride + groom and their family // Invitations: Invitations by Dawn
No related posts found.