"Emily and Mike were a dream from the beginning. When I met them I fell in love with their fun personalities, genuine nature, and ability to love each other so openly and honestly. I knew that their wedding would be fun but when Emily came to me with ideas for her engagement session I did a little happy dance. I should preface that Emily is a photographer herself and has a beautiful vision and aesthetic. We started talking about having a vintage picnic engagement. Honestly, a lot of clients like the idea of styled shoots but don't have the vision or ideas to really complete it. This was not the case with Emily and Mike. The first picture she sent me was the dress she had picked and from there my happy dance turned into a wild excitement and we started planning. I grabbed everything I had and she brought everything she had. It turns out we have the same style and feel. Everything went together seamlessly. My favorite part is Mike's addition of his suspenders and cherry pie. I loved that he jumped in and got involved too…
So I could talk for hours about how cute the setup was but in all honesty Emily and Mike made this shoot. They are so sweet, loving, intimate and funny. They could dance and goof-off and then snuggle in and enjoy the quiet moments. They are in love – in all the nooks and crannies of the word. A testament to this is when they saw the photos they built each other up. We all have things we can critique about ourselves but they just focused on how much they love each other and how beautiful or handsome the other one looked. Ali, our sales manager, left their meeting saying "I have never met two people so good to each other. I want what they have". I will say it again, they are so dreamy!" – Elevate Photography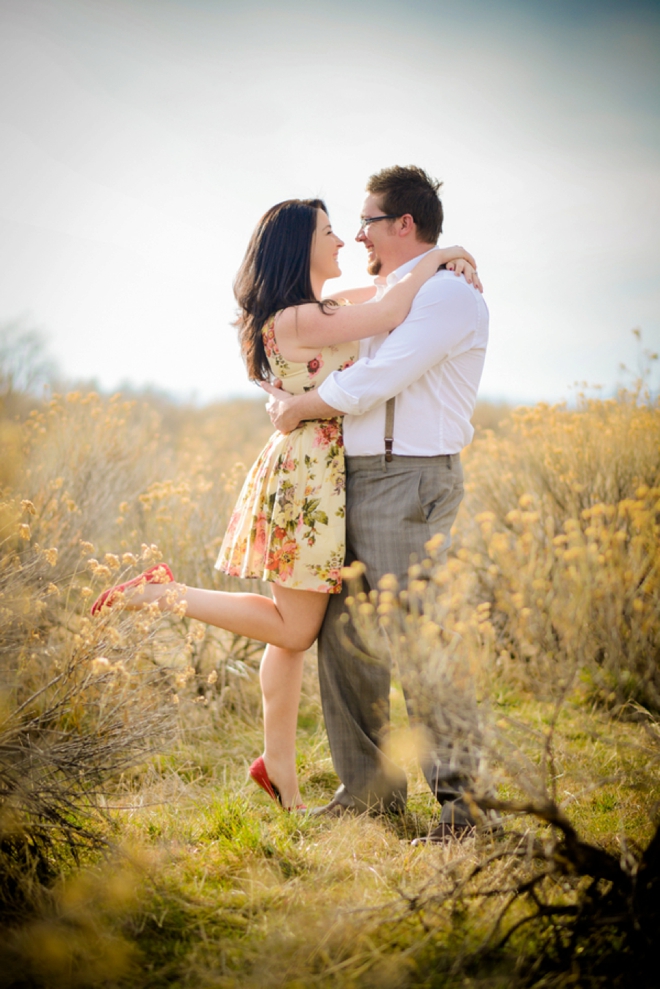 How did you find your photographer?
Being a photographer myself, I did a lot of research on Denver photographers. I knew what I was looking for and the style of photography I'm most drawn to… I just needed to find that photographer who's work spoke to me. I finally came across Elevate Photography! I had the opportunity to meet the lovely Miss Katie Walker at one of the Denver bridal shows, after that I knew my Fiancé and I needed to set up a formal meeting. After spending time with Katie (who is a blast to be around by the way!) at the studio and going threw her portfolio full of stunning photographs, Mike and I knew it was meant to be and we just had to have her photograph our wedding!
What are you DIY-ing for your wedding?
I'm creating a vintage style feel for our wedding. I wanted something classic infused with something unique at the same time. I have a love for anything vintage, and my fiancé is always right by my side when I'm perusing the antique shops. That's really how the whole idea of a vintage wedding came about. So I began collecting things that would help make that vision come alive. Vintage books will now become the perfect stage for milk vases to sit upon that I'll fill with my flower arrangements. I have old forks that have been bent to become stands for the table number cards, and vintage luggage for our card box. My Fiancé and I also made a board that will display and hold skeleton keys for each of our guests, that will be their escort cards. I have made my own mercury glass candle holders that will be placed down the isle at our ceremony (real mercury glass is so expensive!). I'm also really excited about our cake table! We will be doing an assortment of 8 inch Bundt cakes, that will be displayed on vintage cake stands that my mom and I have been collecting. Finding all these different elements and bring them together has been a lot of fun!
What are you looking forward to the most?
I'm most looking forward to bringing our family and friends together in one place. I'm originally from the suburbs of Kansas city, so most of my friends and family will be coming from out of state. Having everyone in Denver, CO for our wedding day will be so incredible for us! We have so many wonderful people helping us make this day so very special. I can't wait to see our vision come together for all of our family and friends to enjoy! – Emily, the bride-to-be
Event Credits
Photographer: Katie Walker of Elevate Photography // Venue: Cherry Creek State Park in Colorado // Ring: Vera Wang // Dress: handmade via Manika Atelier