September 10, 2014
"Amanda + Mikey had a gorgeous seaside wedding. The decor was romantic, clean and crisp, with a light and airy atmosphere. There was lots of wooden signs, burlap, mason jars, and many happy toes in the sand. Aside from the beautiful florals, almost all of the decorations were handmade by the Bride and her friends and family! Amanda made such a beautiful bride, with her handsome husband and super fun and equally gorgeous wedding party!" – ShoreShotz Photography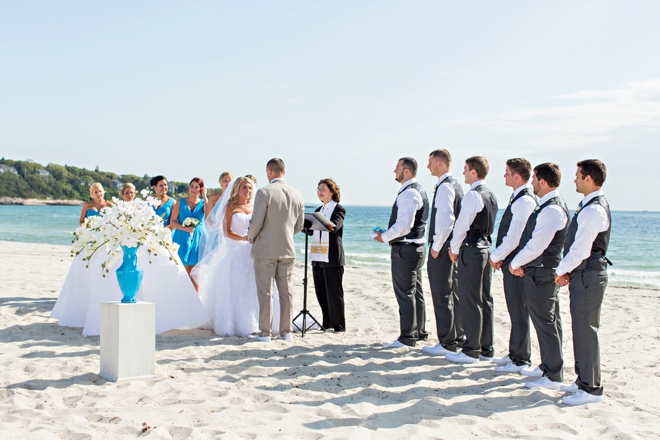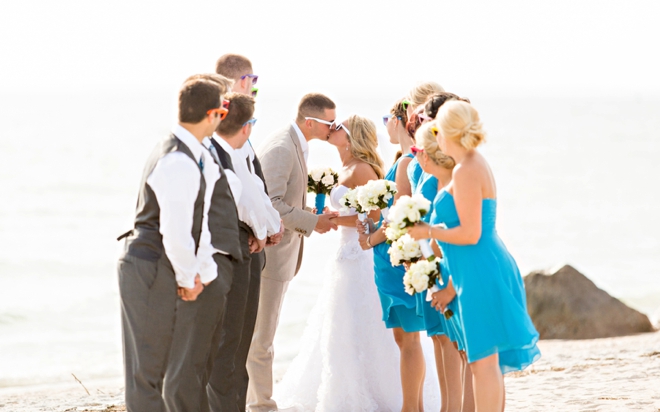 What is your favorite wedding day memory?
The entire day was a dream come true, which makes it very difficult to pick just one memory, but if I was to chose, it would be when my husband and I had a moment after pictures to sneak away and into the ocean front reception room to see months of planning and hard work come to life. It was one of those moments that take your breath away and it was surreal to be given that moment with Mikey to quietly embrace my dream wedding unfolding before my eyes.
What did you DIY for your wedding?
The DIY aspect of my wedding began only one month after the proposal. I created neat craft boxes wrapped in blue and white tulle for my bridesmaids using white shoe boxes, stencils, and paint to write "Will you be my…." and on the inside of the box there was a card that read "Bridesmaid?". Underneath and in between layers of tissue paper were gifts for the girls. I knew I had to do something super special for them because there would be a lot of hard DIY work to be done over the course of the next year. Next came a lot of planning, organization, and brainstorming. We had a friend of ours design our invitations and inserts for our pocket invites and the supplies were purchased from Cardsandpockets.com. Following the arrival of the prints and supplies was hours and hours of gluing, tying, stuffing and labeling. We also DIY-ed the message in a bottle table, wooden ceremony signs, hashtag signs, chocolate pretzel and donation favors, menu inserts (with the help of our graphic designer friend), sand boxes for the starfish & sand dollar place cards (which were also DIY-ed), mason jars for the cocktail tables, "in memory of" table, lobster trap/card box, mason jar gifts for the Bridesmaids, my garter, and finally the ring bearer pillow. It was a lot of work, but seeing it all put together made every minute worth it!
Any advice for brides currently in the planning process?
If you plan to do a DIY wedding, keep your budget lower than you actually need it to be. Throughout the process I always had moments where I would come across something at the store and think "oh, now this would be perfect!" or "this is will make it look SO much better!" and in the end each project turned out to be a little more expensive than I had planned. Also, when it gets down to the wire, small expenses will keep popping up. So trust me, if you budget low you it will never feel like you went over budget. AND don't be afraid to hand projects over to your wedding planner last minute, sometimes it's actually cheaper and it may help alleviate stress. – Amanda, the bride
Event Credits
Photographer: ShoreShotz Photography // Venue: Sea Crest Beach Hotel // Wedding planner: Jennifer Keys // Florist: All About Flowers For Weddings // Cake: Delicious Desserts // Music: Cape Tunes // Hair & Makeup: Stacey Frasca // Dress: La Reine Bride // Bridesmaids dresses: Allure Bridals // Groom's attire: Perry Ellis // Groomsmen attire: JCPenny // DIY Invitations: by Dan Lodowsky and Cards & Pockets