"Ashley & Dan's wedding is the one I'll show any of my brides that are fearful of it raining at their outdoor wedding. So I know it doesn't seem ideal to have everything get soaked, but in my opinion, it loosens everyone up to party. Luckily they had tents on hand to protect all of Ashley's phenomenal hand-selected and hand-made details. Everything from her non-wedding-dress dress to her simple & perfect flower crown fit exactly with her boho laid-back style. Throw in a ton of guests who know how to party, a few custom cocktails and a live funk band, and all of the sudden I have the best job in the world. I definitely wouldn't mind reliving this wedding day. Absolutely one of our favorites." – Black & Hue Photography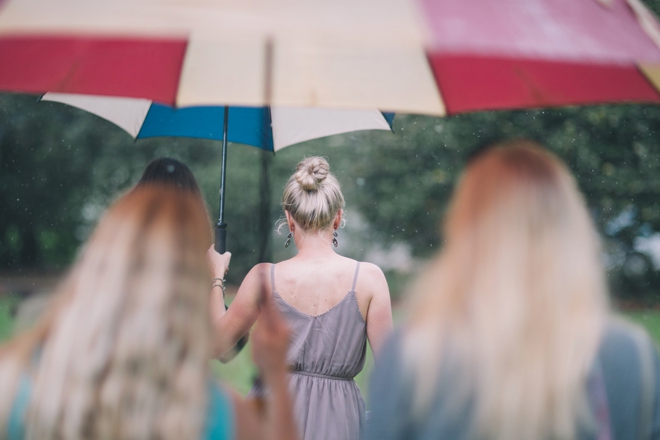 What is your favorite wedding day memory?
That's a hard one.. There were so many! Probably the little moments where Dan and I secretly slipped away and took in the night together. I think it was important for us to step back from everything and just be. One specific moment I really cherish was when we left the reception and read our vows to each other again.
What did you DIY for your wedding?
I had a professional florist create my flower crown and bouquet, but since I love flowers and potted houseplants I decided to get creative for a more organic look. My mother bought glass bowls and painted them to look like Mercury Glass, then we planted some beautiful draping greens, succulents and tiny flowers in them for the centerpieces. We placed the plants on top of wood logs that Dan's father chopped for us, then scattered dried roses and crystals from the Blue Ridge Mountains all around them.
Dan's Aunt kindly offered to make some additional flower arrangements to decorate the cottage. She ordered dahlias, ranunculus, roses and all sorts of frosted greens. It was such a relaxing treat to sit outside with the women from my family and Dan's and create the arrangements. We also bought apothecary jars and made little terrariums to scatter around the reception area.
During the months leading up to the wedding, my mother and I hit up all the local thrift stores in Tallahassee and Tampa to look for fun accessories for the wedding. We ended up with tons of vintage brass candle sticks for the centerpieces, midcentury glass goblets in every color of the rainbow for the guests' cups, silver trays for the dessert table, old crochet and patterned tapestries and two beautiful peacock chairs!
Since I illustrated the invitations, I used the same design to create menus for each food station, dessert table and bar then put them in vintage brass frames. I was still working on them at 3:00 the morning of the wedding because we decided to change the signature cocktail! I also hand painted all the signs that gave directions to the venue, ceremony and reception.
Also, Dan and I wrote the wedding ceremony and our own vows, so I guess that counts too!
Something old, new, borrowed and blue?
I did! My something old was my Grandmother's wedding band that she gave me before the wedding (she upgraded hers).
My something new was the beautiful jewelry and vintage headpiece my mother gave me.
My something blue was my baby ring; it's a sapphire (my birthstone) which I wore as a midi ring.
My something borrowed was really special. Dan's Grandmother and Aunt threw me a beautiful bridal lunch the week before the wedding where we shared stories about how we met our significant others. Dan's Grandmother told a touching story about how she met Dan's Grandfather who just passed away the year before; needless to say it brought us to tears. When the lunch was ending, she pulled me aside and asked if I would pin his wedding band in my dress on the day of the wedding. They had such a beautiful, adventurous, loving relationship, and she wanted me to wear it as a token of good luck in our marriage. So far, it's definitely worked!
Any advice for brides currently in the planning process?
During the planning process, step back from Pinterest and all the wedding magazines and think about what makes you unique as a couple, then take that inspiration and run with it. Make the wedding a reflection of your style so it feels comfortable and true to who you are.
During the day of the wedding, be flexible and be present. You spend so much time making sure your big day is absolutely perfect that when something goes wrong (which it will) it seems like a disaster. Just take a deep breath, brush it off and have fun! My biggest fear came true the day of our wedding when the forecast said rain across the board, but it ended up being even more magical than I could have imagined! As long as there's food, drinks, good music and great people, all will be just perfect. This is a day to celebrate the beautiful love you and your partner share. – Ashley, the bride
Event Credits
Photographer: Black & Hue Photography // Venue: Alfred B. Maclay Gardens // Officiant: Groom's Uncle // Catering: Klassic Katering // Rentals: Panache Tent & Event // Florist: Designs by Darin // Wedding planner: Fairytale Events (with Maclay Gardens) // Desserts: Brides Mom and Grandmother // Band: Atlanta Funk Society // Videographer: CollabCreations // Brides dress: Jarlo // Hair: Cherry Blow Dry Bar // Groom's attire: J.Crew // Invitations, signs, decor, centerpieces: DIY by the bride
No related posts found.