"Kate and Alex are an adorable couple who have an old-school charm that just puts you at ease when you meet them, and that is how their wedding day made the guests feel. The event was relaxed and fun, as evidenced by the "please seat yourself" sign and the fireball mini-bottles for guests. They also have a beautiful love story, which culminated when Kate surprised Alex by walking down the aisle to the song that they listened to on their first date. Thoughtful details were not only beautiful but meaningful. Kate's best friend and business partner at Milk & Ice Vintage, Angie, officiated the wedding, and her other best friend, who couldn't fly to Baltimore from the west coast because she was expecting, gave a prerecorded speech that was projected onto a big screen as a surprise for Kate and Alex. All in all, every detail was carefully thought out from start to finish, and Kate and Alex's day was beautiful and unique." – K. Rainier Photography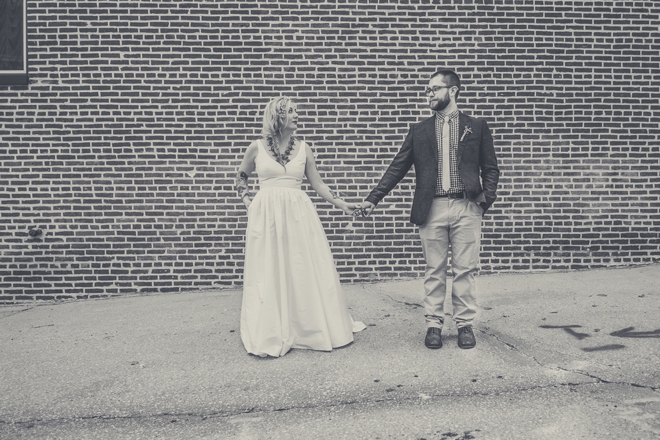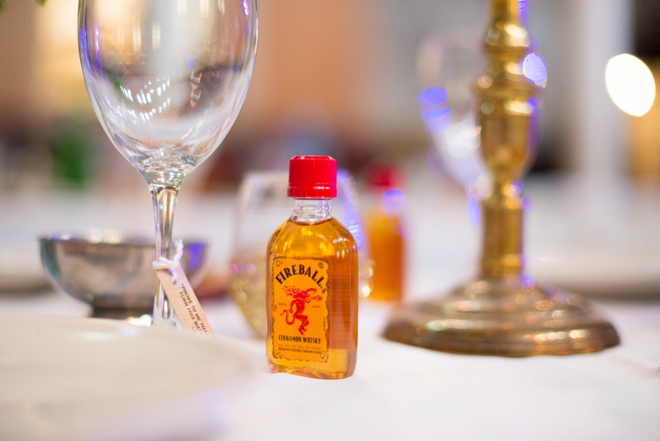 What is your favorite wedding day memory?
Well besides the first moment we saw each other, it had to be when we walked in together as husband as wife. Not only was it wonderful… but it was hilarious. A friend of ours asked to introduce us just minutes before and we of course were delighted. What he didn't know was the song we came into which was "it takes two to make a thing go right" by Rob Base & DJ EZ Rock and when he realized it, he not only introduced us, he rapped the WHOLE song. We boogied a little then went straight to the bar for our first husband/wife shot. It was awesome.
What did you DIY for your wedding?
Every decoration was either handmade or collected by us. My best friend Angie and I have a Vintage & Antiques store so the year before we stocked up! Everything from vintage bottles, little trinkets, brass candle holders, and even every piece of silverware was hand picked with a different design on each one! I had a little decorating party with my friends and I and we made all of the photo booth props, and I am the lucky wife of a husband that's a graphic designer, so from the save the dates to pay your bartender signs were made by him. It makes it so much more romantic to do it yourself and bring in touches of yourself like the wine glasses that had little tags on it that said "Prove to me that you're divine, change this water into wine", a line from my favorite broadway musical.
Something old, new, borrowed and blue?
Well of course! Actually I had it all in one piece! My wonderful friend Christian that owns Sturgis Antiques here in Baltimore was so kind to let me borrow an 1800s Silver and Turquoise Squash Blossom Necklace. It was the hit of the night and I am so grateful that I was able to wear such a beautiful piece of jewelry.
Any advice for brides currently in the planning process?
I have already said this to many brides-to-be, and it is this… don't sweat the small sh$t. It really and truly is all about having a good time. No one cares if you have bows on your chairs, or they are drinking from a glass or a plastic cup. (well maybe just my guests didn't). Focus on what makes you and your husband or wife to be happy. You can even have an armadillo groomsmen cake like the one in the movie Steel Magnolias if you want to! (I might have went a little overboard with that one). Really just have so much fun and make it as memorable and you two as you possibly can. <3 – Kate, the bride
Event Credits
Photographer: K. Rainier Photography // Venue: 2640 Space // DIY, Event design & planning: Milk & Ice Vintage // Flowers: DIY with wildflowers // Catering: Big Bad Wolf BBQ // Dessert: DIY by best friends Mom // DJ: DJ Cassanova // Dress: J.Crew // Hair: Jen Wilson at Envy Salon // Makeup: Ashley Caywood // Men's attire: H&M // Favors: Vintage S&P shakers // Stationary and signs: DIY by the groom, Alex Schultz