I'm absolutely thrilled to finally be able to share this gorgeous turquoise DIY wedding with you today! Addie the bride, is a girl after my own heart and I've been following her wedding planning journey on Instagram of all places! She hashtagged #diywedding, and through that tag I came across her amazing planning pictures. Clearly, she had me at her color scheme. With every single picture she shared I was more entranced… she just kept creating amazing detail after detail. No really… I'm serious – she made all the awesomeness below, even all the little things, just wait until you see it. Dearest Addie, thank you for making DIY look soooo… good. Girlfriend you rock it and I'm honored to feature you today because you are the bride that I write this blog for. Cheers, Jen.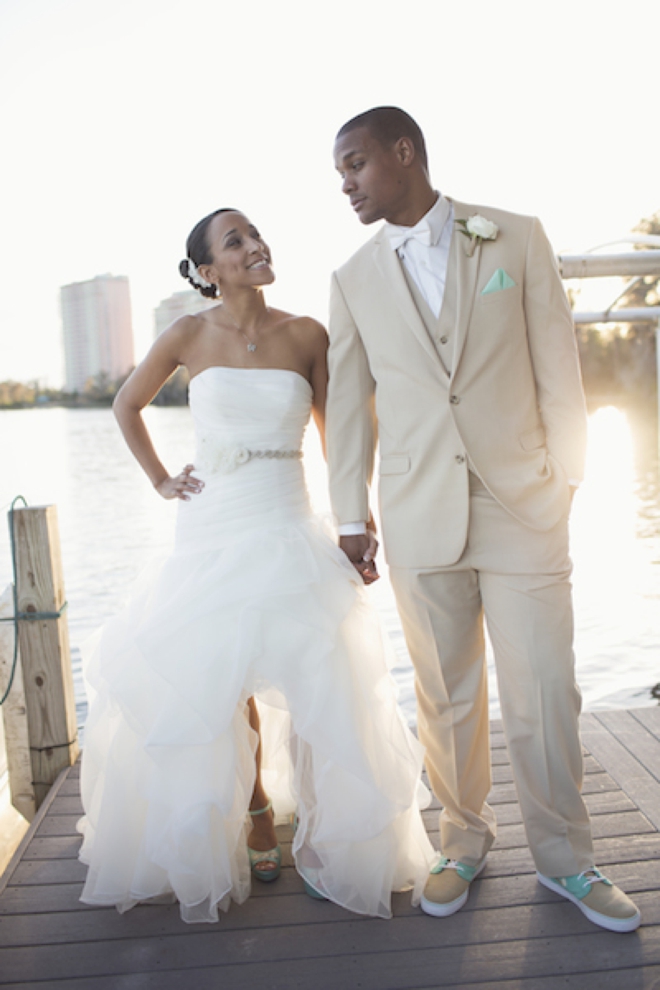 What is your favorite wedding day memory?
My favorite memory from that day is hard to pin down but if I had to pick one I'd have to say it was our choreographed first dance that my husband and I broke into after starting off slow. It was a surprise to EVERYONE! The cheering and laughter from all of our guests still makes me smile.
What did you DIY for your wedding?
Haha – I believe the running joke that weekend was, "What didn't Addie make?" since most of the time the answer was "Addie made it!!"
Sorry… the list is sooo looong!
The bowties worn by the groomsmen and ring bearer
The pocket square in my husband's jacket
The bridesmaid's necklaces and hair pieces
My sash I made and used the extra pieces to redesign my shoes
I cut the applique off of my dress and transformed it into my hairpiece
I sewed mint fabric onto burlap to make all the table numbers and spray painted the frames they went in, along with putting the centerpieces together
My garter
The "here she comes" sign and the "thank you" sign
The big marquee sign with our last name on it!! (my fav)
The ring bearer pillow and the flower girl basket
The flower girl hairpiece and tutu
I put together the glass vases that hung on the chairs during ceremony
All the signs and décor at the front of the ceremony ie, 1.19.14, large T, please take a program, please sign our guestbook..
The guestbook/poster with a picture of us on it! (Jen's fav)
Our invitations
The gift and card signs with burlap and mint fabric
The M & A on our head table
Bride & Groom chair signs
The circle garland on our head table
The seating chart
The cake cutting set
The cake toppers
I even helped with the cupcakes :)
Something old, new, borrowed and blue?
My something old was a ring let behind by my late grandmother. My something new was my dress. My something borrowed was the veil my sister wore at her wedding. My something blue was a ribbon that was made for a dear friend's funeral with her initials and soccer number on it.
Any advice for brides currently in the planning process?
My advice would be to have someone to turn everything over to the week of the wedding. Make sure you can turn off the planning and creating mode and just enjoy everything! After all, everyone is there for you! Have fun! – Addie, the bride
Event Credits
Photography: Anchor and Ivory Photography // Venue: Paradise Cove, Orlando // Catering: Puff N Stuff Catering // Favors: Shakirah Simley, Slow Jams // Florist: Crystal Peppin // Dress: David's Bridal Galina Signature // Bridesmaids dresses: SheInside.com // Men's Attire: Men's Warehouse // Brides shoes: from DSW, but DIY embellished // Bridesmaids shoes: Shiek Shoes // Grooms shoes: Nike ID, he designed the colors online and Nike embroidered them too
No related posts found.