For each and every real wedding that we share, it's a requirement that we hear from the bride… one question being; "What is your advice for brides currently in the planning process?". Over the past 3 years we have heard some really awesome tips, so I've complied the most popular answers from well over 150 weddings to bring you this Top 10 List today – the best wedding advice, straight from the mouth of real brides!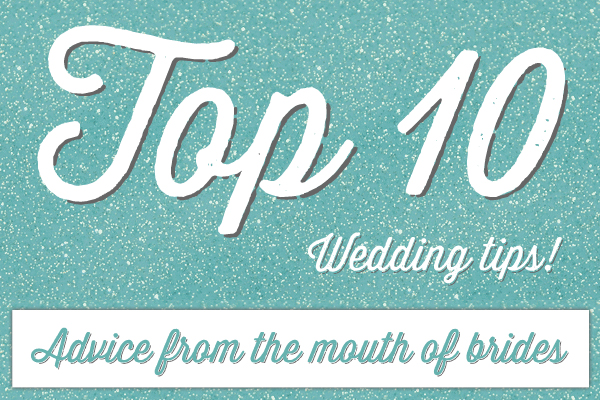 Make sure to take a deep breath every now and then – or do what you can to really take in each and every moment. Be present. Your day is going to fly by at rapid speed, so do your best to enjoy every bit of it – from getting ready to the grand exit!

Splurge on Photography! You won't be sorry that you spent money on your dream photographer – that detail is truly going to be your best memento. It's how your wedding day will be eternalized; imagine your grand kids looking at them one day! ***A Photography Shot list is a great thing to give your photographer; it's a gentle reminder of the images that you absolutely want!

Do what makes you and your groom happy! It's your wedding day and you get to do whatever you want! Don't allow unimportant people speak into your plans. Communicate your vision to people that are close with you – who you trust to help you in your planning journey. 

Get alterations. Make sure that you are 110% comfortable wearing your wedding dress. If you are, it will not only make your day amazing – but it will show on your face! The last thing you want is to be fussing with your dress; pulling it up, itching, or even feeling too snug!

Eat a nice sized breakfast and/or lunch and then try your best to actually eat at your reception – so many couples don't get the chance! Have your venue pack you some extra food to go, just in case you get hungry later in the evening. You don't want to end up starving on your wedding night.

DIY something you feel comfortable with. From one detail to the entire thing… handmade items will always mean more than something you purchase from the store. If you aren't crafty, find a friend or family member who is and have them help you create something special for your day. Not only will you cherish the project itself – but also the time spent in creation!

If you can't afford to hire a wedding coordinator for your entire planning process, hire them just for the "day-of". That way you, your family and friends aren't stuck with the task – and everyone will get to completely enjoy the day!

Make a budget and stick to it. There is no worse feeling than your wedding day being over and being over budget; or worse – having credit cards maxed for a day that is gone.

Enjoy the planning process! Make each planning outing special; ask a friend to go with you, make a lunch/dinner/drinks date out of it, take a photo of you out and about, or maybe even keep a little planning journal. Your only going to do this once in your life – so enjoy every second. 

Don't stress on the little things! Something will go wrong, and when it does – take it in stride. You are the only one who will know that your flowers weren't the right shade of pink, your tables weren't set up correctly, or that you ordered chocolate cake instead of strawberry… just go with the flow. Accept it and move on so that you can enjoy your day.
No related posts found.