"If you can imagine having your wedding at a Lemonade stand out in the orchards of southern California, Bryan & Whitney's wedding is what you would get! It was a warm summer day filled with much laughter and love from friends and family. The couple had a lemonade stand set up overflowing with a family recipe lemonade that greeted the guests as they arrived. But the best part of the day by far wasn't the cute decorations (which were fun and summery), but the couple's sweet love for each other and easy going attitude! They even dealt with a mini-catastrophe, an old door used as a prop blew over onto their cake, so an aunt had to run to the grocery to get another generic cake. The couple didn't know about it until the cake cutting, and they burst into laughter wondering where their cake was, but just smiled and cut the cake they had, acting like nothing was wrong!" – Lukas & Suzy VanDyke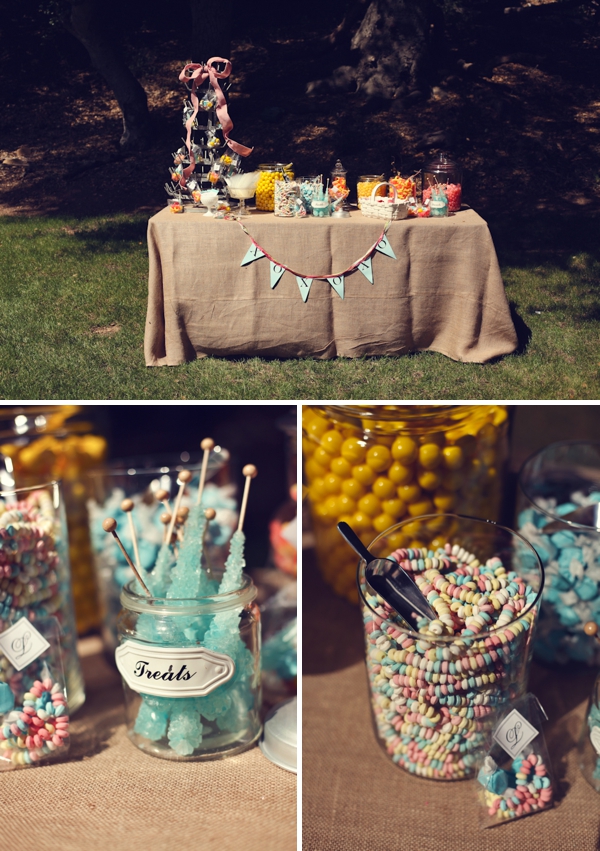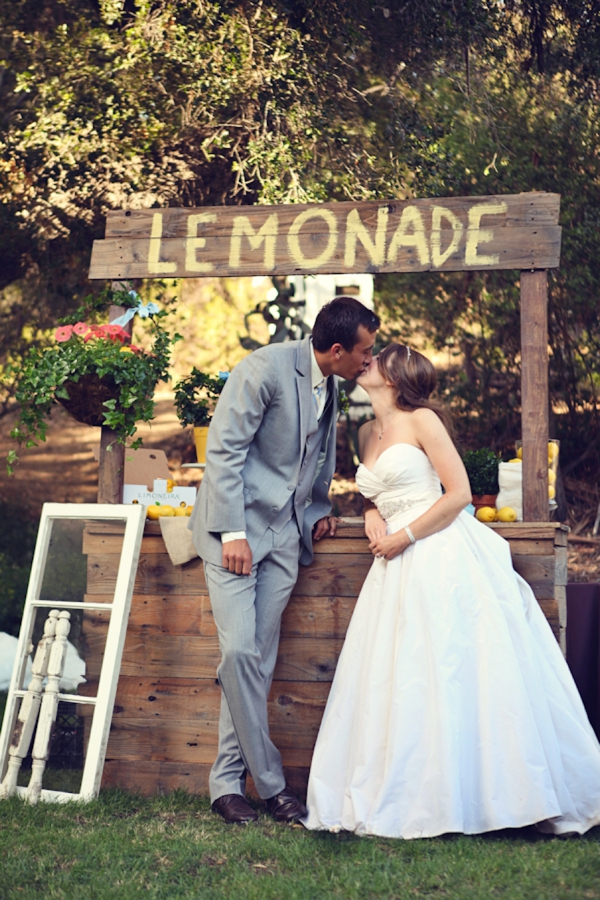 Married: Whitney & Bryan from Lunch Pail Pictures
"I don't know if I could ever choose one specific memory! The day was so much more than I ever could have imagined because of the amazing help of my family and friends who helped pull together all the details we had envisioned. I had so been looking forward to just being married to Bryan that once we said "I Do", the whole rest of the day we were all smiles. I think I hear often how a lot of couples can't remember their wedding day because it went so fast, but I was really intentional about taking everything in. It's all still so vivid! If I had to pick one memory that still stands out to me so vividly it would be when I first saw Bryan as my dad walked me down the aisle. We had decided not to do a first look so that moment was a big one, and I just remember feeling like it was so surreal that we had finally reached our wedding day. It was also really special for me to have those moments with my dad right before everything got underway. I also about died laughing hysterically when they told us our cake had been knocked over by a vintage door and had been replaced with a white Happy Quinceanera from a grocery store down the road that had the frosting scraped off. When we cut into it and it oozed out onto the platter, we burst into laughter. No one knew but us and our families – it was hilarious!
..Yes, we did a lot of DIY projects for the wedding. Most of the decor was DIY – we found a lot of items at thrift stores like the vintage doors and old windows. A lot of the garlands we used at the reception had been made by my amazing bridesmaids and sweet family friends for the bridal showers they threw for me and I just loved them so much I had to use them again. My talented aunt made the big "Eat, Drink Lemonade, Be Married" banner that we hung from the trees above the favor table and my uncle made sure it got strung up just right the morning of. The wooden signs we used as directional pointers to get to the reception and also at the venue my mom and I painted in my parents' garage at 1am the night before the wedding. My dad constructed the archway we entered through at the reception with branches from the lemon tree in my parents' backyard. Those are the little things I loved about prepping for this wedding, how everything just came together with so much laughter and joy. I really couldn't have done it without my mom & sweet aunties plus my lifelong friends/bridesmaids (& their moms!) They were just incredible.
..I did! It all sort of came together the day of! My Something Old: was a vintage handkerchief I kept in the pocket of my wedding dress (yes my dress had pockets!) from my grandma, Delphine. Something Borrowed: was the stunning diamond bracelet that my Aunt Lou let me wear. Something Blue: was my garter, made by the lovely Emilee Hegg of Tasteful Tatters. And Something New: was my Tiffany's necklace from my sweet groom engraved with my new last name!
..First of all, enjoy the process! From finding your venue to opening the RSVP envelopes, soak in every moment. It goes by so quickly. Pick what's most important to you and really focus your attention there and let the smaller details fall into place on their own. It's just one day so make it absolutely memorable but most importantly, remember that you're getting MARRIED. The rest of your life is so much bigger than just that one day. So if your cake falls over (which ours did!) or if your ring bearer goes fleeing in the opposite direction of the aisle (which ours did), laugh and enjoy every moment. You'll be so thankful that you remember all the once in a lifetime moments, both big and small, when you think back on your big day. We do!" – Whitney, the bride
Photography: Lukas & Suzy VanDyke // Videography: Lunch Pail Pictures // Dress and Belt: Watters Gown from Marylinn's Bridal (now Panache), Pasadena, CA // Alterations, Veil, & Reception Hairpiece: Chantilly's Bridal, Newhall, CA // Bride's Shoes: Seychelles // Garter: Tasteful Tatters by Emilee Hegg // Suits & Men's Shoes: Mr. Tux, Newhall, CA // Groom's Tie: Men's Warehouse // Bridesmaid's Dresses: Banana Republic // Flower Girls Dresses: updated from when me and my cousin wore them in my aunt's wedding in 1998  // Ring Bearer's Outfit: J.Crew, Janie & Jack, and Gap Kids // Make-up: Nicole Lind // Hair: Amy Wolf, Beyond the Fridge, Newhall, CA // Invitations: Minted // Calligraphy: My mom! Wendy Kane // Ceremony: Grace Community Church, Sun Valley, CA // Ceremony Program: Kea Brooks // Reception Site: La Campana Ranch, Fillmore, CA // Reception Map: Jamie Long // Music: Subito Strings // Flowers: Yamaguchi's, Ventura, CA // Wedding Cake: Cakery Bakery, La Canada, CA // Rentals: Ventura Rental Company // Reception Details, Favors & Guestbooks: DIY by bride's family & bridesmaids. Hanging Lemonade Banner by Brooke Moore