Isn't DIY Friday just the best!?! Today we are sharing our very last 12 Months of Martha project for 2013, I've had such a wonderful time with this year long concept and I hope you've enjoyed it too! How to make these darling ribbon bow rings ~ which will make wonderful bridesmaid or holiday gifts! These super fun cocktail rings make your hands look fancy!
SUPPLIES:
18″ of fun ribbon per ring
silver or gold ring bases
Martha Stewart Crafts Fabric Stiffener
paint brush
sharp scissors
E6000 Glue
little box
optional: MSC Decoupage Glue, Craft Paint and Glitter
The only talent that you will need for this project is being able to tie a cute bow.
Starting with 18″ of any type of ribbon, tie a cute bow.
Next, liberally apply Martha Stewart Crafts Fabric Stiffener to your entire bow.
///// CRAFTERS TIP /////
The fabric stiffener can change the look of your ribbon; in some types of ribbon it will make the color appear darker. Make sure to paint a test strip of your ribbon with the fabric stiffener first, to see if it changes your ribbon color and if you like it!
Make sure to thoroughly saturate your bow with fabric stiffener. Inside the loops and all. Front and back. Top and Bottom. Then let it dry completely, usually takes a few hours. Here we are doing this step on a piece of waxed paper, which is recommended.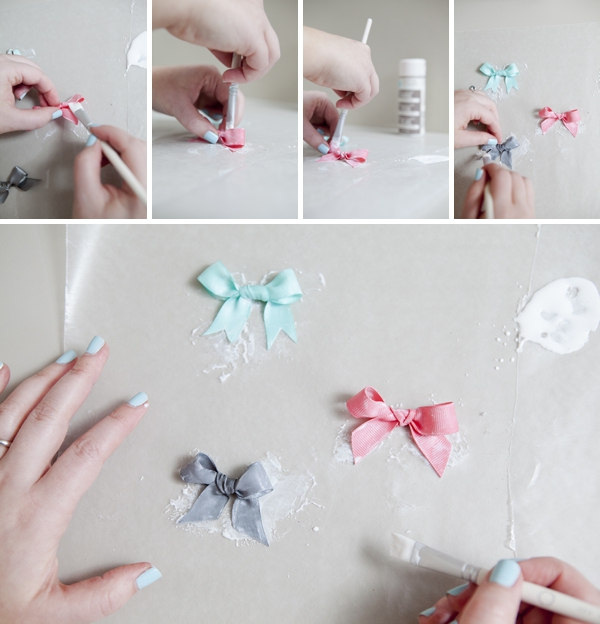 Once your bow is dry you are ready to glue it to the ring base. First you want to make sure that where you are gluing is a steady and flat surface. I cut holes in a little box, then inserted the ring base – this way the bow will dry on a flat surface.
Here are our bows fully dry…
Place a small dot of E6000 glue onto each ring base and then press your bow into the glue. Make sure your bow is drying at the right angle… you might need to prop the bow ends up with something like a folded piece of paper or the like. The angle that your bow dries is the angle you are stuck with. This glue takes 24 hours to dry completely.
There you have it… a darling ribbon bow ring!
Now for fun embellishments… you can paint them with craft paint…
You can add glitter with decoupage glue! One coat of glue, shake on the glitter and finish with another coat of glue once the first coat is fully dry…
And if you want your ribbon bow rings to have a specialty finish like gloss or glow in the dark, you can paint them with any of Martha Stewart Crafts Decoupage glues of your choice!
As with all our DIY tutorials, if you create one of our projects please send us a picture or a trackback – We Love Seeing Your Creativity! If you use Instagram or Twitter please use the hashtag #SomethingTurquoiseDIY. Happy Crafting!
Photography: Studio 11 Photography // DIY tutorial by: Jen | Something Turquoise // Martha Stewart Crafts Fabric Stiffener, Decoupage Glue, paint in beach glass, paint brushes and scissors: Editors at Martha Stewart Living // all ribbons, ring bases and E6000 glue: Michaels // nail polish: Essie, Mint Candy Apple
No related posts found.