"Facebook, when you really think about it, is fascinating for so many reasons, and I marvel at it sometimes. It has also brought millions of people together, has reunited love and has sealed-the-deal on love for many. In Taryn + Eddie's story, Enterprise Car Rental brought them together {as friends}, and Facebook 'sealed-the-deal' for their love. I've got to mention that Taryn found ME on Facebook too…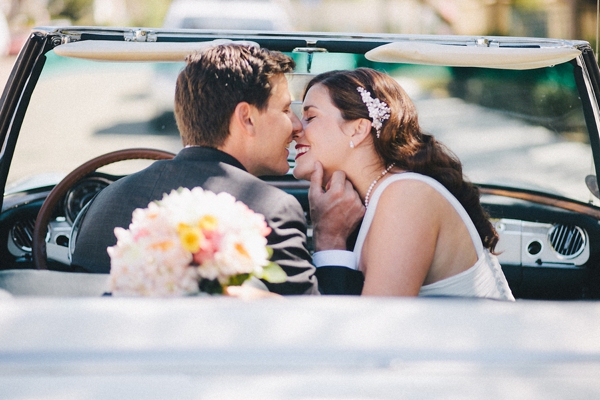 ..In '08, Taryn + Eddie met at Enterprise Rental Car but were just 'friends'. When she left, she never expected to see Eddie again. But a year-and-a-half later, when Eddie poked her {a Facebook, "wink" of a sort, or maybe just a "hi"} to get her attention, it must have worked. Wonderfully! Taryn and Eddie shared a long-distance friendship for 5 months until they mutually expressed that they both wanted something more. You can tell that they were placed on this earth to be each other's soul mates. Five years later they 'sealed-the-deal' forever, at the gorgeous and historic Darlington House in La Jolla, California, adored by 100+ friends and family." – Petula Pea Photography
"My first favorite wedding day memory was seeing Eddie be so emotional and for me to be the calm and soothing one. We had our first look before the ceremony and while I was expecting him to be a little emotional I wasn't expecting tears. Usually he is very calm and collected and I need him to calm me down. During the whole ceremony he had tears running down his face and I kept wiping them away and telling him to breathe. It made me focus on him and not my own nerves. It is really a sweet memory…
..Yes! A lot of our details were DIY! My cousin Marget is a freelance graphic designer and she designed our Save the Dates, Invites, Rehearsal Dinner card, Response Cards, Table numbers and seating chart flags. We had them printed at a local print shop which was very inexpensive and then we used a Martha Stewart Punch on everything! My hand was sore for days from all the punching but they turned out so beautiful! Everyone asked where we got them.
I bought picture frames from the dollar store and painted them gold for the table numbers.
I also made the succulent centerpieces for the tables. I found plant sales around Encinitas, where I live, and got succulent cuttings from friends and bought jam jars at Smart and Final. I planted them months before the wedding so they would have time to grow and fill in their jars. A few days before the wedding we added moss to the top to give them a more romantic look. I also made candle holders with the same type of jam jars and moss.
When I was doing these projects it felt like a lot of work but in the end I'm glad I did it because I felt more attached and proud of the end product because I had worked so hard…
..My old was my mom's veil from her wedding. My new was my coral shoes and hair comb. My borrowed was my mom's pearl ring and earrings, and my blue was my tiffany blue garter that my mom had made for me!
..The best advice I got was from my co-worker Angela, so I'll pass her advice along. "Make sure that after you finish dinner you go to all the tables and say hello and thank you to everyone. Once that's done you really don't have anything else to worry about." It was so true! Not only did I feel like I didn't need to search everyone out to say hello but it really added a personal touch to our guests. They came to see us (a lot of them came from very far away) and it was nice that we took time to have a personal moment with all of them." – Taryn, the bride
photography: Petula Pea Photography // second shooter: Katie Beverley // event planner/coordinator: WED: San Diego by Liz Cutrano // venue: Darlington House // officiant: Dr. Gail Smith // flowers: Moments in Bloom // dress: Blue by Enzoani, purchased at 2000 Dreams Bridal // shoes: Seychelles // hair: Karla Vazquez of Illusions the Studio // makeup: Dana Gray of Girl on the Go // bridesmaid dresses: Bebe // grooms attire: John Varvatos from Nordstrom // groomsmen attire: Perry Ellis from Macys // cake + sweets: Elizabethan Desserts // rentals + catering: Peartrees Catering // DJ: Vynce 'DJ Phreek' Pham // invitations: DIY and design by Marget Nagy // ceremony chairs, centerpieces, seating chart flags and table numbers: DIY-ed by the bride
No related posts found.