"This whole experience was like something out of a storybook – including but not limited to being flown on location to the venue where there were rose petals covering the swimming pool, and the groom riding into the ceremony on a white horse. I have never in my life seen so many flowers converged into one setting! I knew this wedding was going to be high energy, resplendent decor, and good people ~ so I was twitching in anticipation for weeks before the event. However, I was not prepared for the extreme dose of fun insistently injected into every moment of this party. People in California like to dance, they like to laugh, they like to cry, and they like to gesticulate – emphatically. At least, that's my impression after spending time with Emma's family and friends. Makes for good times, but tough photo culling. I spent an entire day (literally), trying to select the images for this submission. I easily could have posted thrice the images, but I did my best to make it short, and sweet…
..It was a fusion wedding, East meets West style, with a Hindu ceremony and a Catholic ceremony, and it took place over two days. Emma wore a traditional Indian regalia for the ceremony, and then an outfit switch – to a traditional white gown for the reception. The day before the actual wedding we photographed the Mehndi (henna) ceremony and the rehearsal dinner, where we were privy to amazing speeches and a few fun surprises Ravi and Emma had for each other… 
This in not the territory for a speech, but, I just have to say thank you to Emma and Ravi for insisting we come all that way to photograph your wedding. And thank you to all of you involved in making us feel so welcome, (Susan, Jeannie, Peter to name a few). We were truly delighted to participate in the unfolding of this extraordinary event." – Darshan Photography
This is the absolute best first look I have ever seen!!! The expression on Ravi's face is to die for… and I'm sure that Emma is so glad she has these darling images below to relive his excitement in that moment.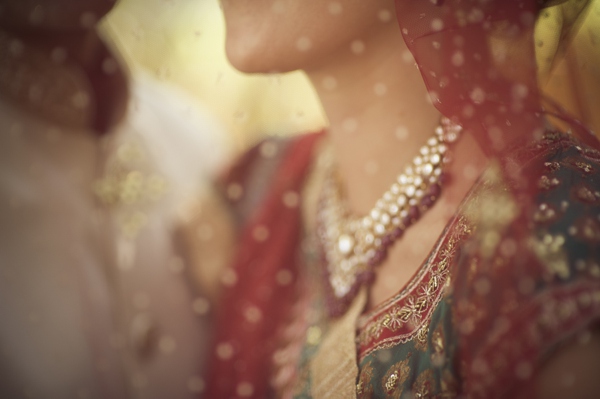 "My favorite memory was when I was peering out the front door and saw Ravi on the horse coming down the road with his friends and family dancing around him. I don't know why I had expected a sheffield pony or something small and there he was on this giant white mare! He looked so handsome and happy and the significance of the whole day became so apparent in a wonderful way…
..I didn't do much DIY – unless you count seating, which I slaved over. I'm not necessarily the most artistic of beings so I left most of the design to my mother and the professionals (Gordon Pashgian + Andy Ferrara) and they blew my socks off. That said, Ravi and I did have a lot to say about the food and booze choices!
..My grandmother's diamond earrings, my mothers gold bracelet, my mother-in-law gave me stunning wedding jewelry – necklace and bangles, and my "blue" was underneath everything!
..We wanted both our families to feel the love and respect we have for our different cultures and religions. We love each other for our different backgrounds and our top priority in this wedding was to make sure that we could bring them together in a joyous way – embracing both our differences and similarities. 
..Remember that it's one day and just have a blast!!! Dance dance dance and believe everyone when they say that in those last few days the weight will just fall off!" – Emma, the bride
photographer: Darshan Photography // other: D&B Photo // musicians: Richard Michos // caterer: The Kitchen for Exploring Foods // rentals: Classic Party Rentals // planner: Jennifer of Joie de Vivre & Co. // event design: Gordon Pashgian + Andy Ferrara // flowers: Mark's Garden // cake: The Cakery Bakery // white dress: Camille de Pedrini // indian lehenga: Ritu Kumar // makeup: Tamra Auzenne, Pasadena // hair: Traci Jane, Pasadena
No related posts found.