"The more that I strive to be a good wedding photographer, the more I fall in love with what marriage is all about. Two people committing to one another AND the family and friends that stand behind that commitment! Wow! It's so amazing that I get to stand behind all of our clients and say that I truly believe in what you are doing. I believe in your marriage, your long life together, your hope for a solid and committed future!
With all that said, I wanted to introduce my sister's Bridal Shower. Ellie (one of our esteemed photographers) is getting married on June 28! It's just around the corner and as the maid of honor, I wanted to do something special for her. So, I got a Pinterest board together and I went to town. Really, I went overboard. Because I see so many awesome weddings and awesome details, I decided that this was my moment to create a masterpiece. The more that the details came together, the more creative I became…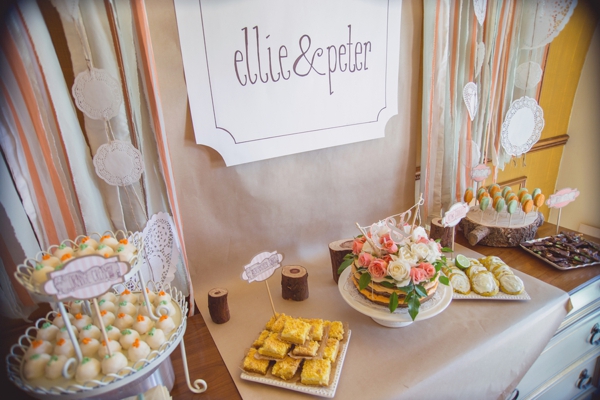 …the whole day began with a citrus inspired idea. So, I thought of all the things that we could include into a CITRUSY INSPIRED DAY! Of course I immediately began with food!  Grapefruit & Feta salads, mint lemonade, peach iced tea, fruit, lemons, limes and all the like! From there, ideas of colors came into mind! Colors that coordinated with the food (of course), lime, orange, peach, and then beautiful florals. So, from there, I made cute banners & streamers. I purchased kraft colored butcher paper for all of the banners & even for the table coverings! I used that butcher paper everywhere! After that, I thought that doilies would add a cute & feminine touch to the day, so I got clear plates and put the doilies under them. But I didn't stop there, when I realized that I had purchased too many. Once again, I got creative. So we hung doilies everywhere ~ even from the trees!!!
I honestly wanted Ellie to have a beautiful and memorable day. Beyond all of the decor, the whole point of making a bridal shower is to create a day where the bride can drink in all of the love and support from her family and friends. We had so many wonderful people who came and showered her with gifts and praise. My favorite part about the whole day… when all was said and done, was that Ellie had been so moved. She cried most of the day and smiled the rest. I couldn't have asked for a better sister! And I couldn't have asked for a more deserving person to share this special day with!" Tiffani of Sun & Sparrow Photography
/////////////////////////////////////////////////
For more information on all these fabulous DIY details please visit Sun & Sparrow Photography
Not only do I love Ellie's gorgeous outfit ~ but I love that her and her talented sister took the time to take beautiful portraits of her! Your bridal shower truly is one of those days that you will remember forever and what an amazing gift to have portraits like these to look back on!
"Well… my photographer Tiffani is my sister! How in the world does one find their sister? I'm stuck with her! And good thing I love her photography too ;) So that made it easy to decide on my bridal shower photographer. Tiffani and I have been doing photography together for about 5 years now and to be honest its been a thrilling ride working together, getting to know each other better as sisters and business partners, and helping each other grow as people in so many ways. I wish I could go on! But I should probably stick to the point… THAT being the beauty I saw in her preparing and photographing my shower. The effort that she put into each and every detail (which is something typical for her) was heartwarming. I knew she would put together an incredible day, and honestly she really blew me away! Not only was she photographer for the day, but she hosted everything and brought me to tears a few times. She is a really special woman to work with and a really special sister to have. All of her love showed through the effort she put in creating the images throughout the day…
..there were SO many things about my bridal shower that blew me away… the shower lasted for about 6 hours, and for just about every moment something special was happening. First, I had my makeup and hair done by the amazing Stacy Andrews who does the makeup for Tia and Tamara. She's quite an amazing woman and artist! So after I was feeling gorgeous I put on my outfit that I planned out to match the colors of the shower. Tiffani was going for mint and peachy-coral for the color scheme, so I put on the perfect dress! My fiancé picked it out for me while we were in New Jersey… and my other details? Well I made them out of the same fabric that we used for the decor. The hair bow was my favorite!
Now all of they DIY details… well they went together perfectly! I saw them all together for the first time as I came down the stairs dressed and made up, and feeling amazing. I thought back to the craft party that Tiff put together with all my bridesmaids and some friends. It was a night of fun, tearing fabric, hot gluing, and writing out my engagement story while we ate pizza and laughed together. She got most of her crafty ideas from Pinterest and other bridal blogs, but her main idea was bringing the mint and peachy-coral together into a vintage theme. Even the cake was made by my lovely friend Lena!
But with all the crafts and cute little details surrounding me, they weren't the thing I was most thankful for. My heart melted the moment Stacy (my Makeup Gal) gifted me an Heirloom box. The box was covered in my wedding colors and pictures of Peter and me.  opening the box, I found my first heirloom: a vintage hankie that read "Mrs Fuqua." My tears began to well while Stacy explained that the box was meant for me to store the special treasures that I want to pass down to my children and grand children. One moment after I opened my box my Aunt stood up and started to speak. She poured out her blessings over me, reading Bible verses and sharing her love about our family and my choice to start my own. Then my grandmother passed her a ring, it was one of her rings that she bought when she first came to America. More and more Heirlooms came from my grandma's lap; my aunt explaining the significance of each Heirloom gift as my grandma passed them to her. I couldn't help the tears rolling down my cheeks (at my already-amazing bridal shower). My heirloom box became full of jewelry, souvenirs, and just little things that will help me pass along the story of my family to my children and grand children. Its one of those things that I will hold onto until the day I die and a story I will never forget thanks to Stacy, my Aunt & Grandma, and my lovely sister.
Still, writing this is even making me tear up. I'm one lucky girl to be blessed with so much love and joy from my family and friends that supported me there that day!
…WOW. Of all my wedding plans, it really hard to decide ONE thing that I'm most looking forward to, but honestly it's simple. Aside from my unique aisle-less ceremony site to my crazy indoor-outdoor decor and my amazing team of photographers and videographers, the thing I'm MOST looking forward to is saying "I DO". There is nothing I care about more on my wedding day than marrying my handsome, incredibly caring and sensitive man who has more love for God and people than I could ever ask for. The decor, the themes, the plans will all fade into history away from us, but the one thing that I'm most looking forward to remembering is my love for my soon-to-be husband. As crazy and special as weddings can be (and over emphasized, matter of fact) the thing thats most important is keeping a lasting, loving marriage. So the one thing that I would like to remember most on my over planned, pinterest-inspired, nature themed wedding… is the day that I committed my life to my one-and-only. And I CANNOT WAIT!" – Ellie, the beautiful bride-to-be
photography: Sun & Sparrow // rentals: Choura Rentals // hair and makeup: Stacy Gibson // treats and sweets: Lena L.
No related posts found.