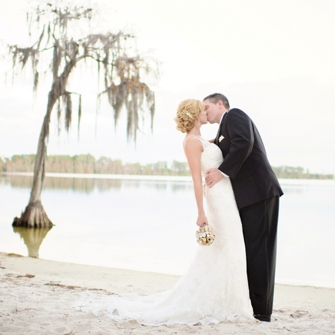 real wedding | John + Kristin
"To sum up this wedding in one word: fun! Kristin and John wanted an amazing celebration and a major party with their family and friends, and that's exactly what was achieved. The always-fabulous Paradise Cove was the backdrop for this occassion but instead of the overly-obvious beach theme, this pair decided to go with a more DIY/rustic style, which ended up blending flawlessly with the tropical venue." – At Last Wedding + Event Design
"There are so many! For us, the day was all about having fun and not taking ourselves too seriously. Our ceremony really set that tone. My long-time friend Melisa Vis, read an excerpt from a "contemporary poet" – rapper 50 Cent. When it was time for our vows, our officiant, Brian Banks, asked my husband John to repeat after him { "Brian: "I, John, take you Kristin. "John: "I, John, take you Kristin." Brian: "To be my best friend and wife." John: "To be my best wife." } I wasn't aware that my soon-to-be husband had multiple wives at the time (hahaha!) but either way, I was happy to know that I was the best one. I hope to live up to that title…
…Yes! By the week of our wedding, I had developed a phobia of glue guns, picture frames and crafts in general. Although it was stressful to make things yourself at times, I also really enjoyed the hands-on creativity and the personalization of it. There is something really special about looking around at your wedding and seeing ideas come together that were once just in your head. A few of my favorite DIY projects were:
– Painted wine bottles for the table numbers, crafted by Jennifer Malave.
– Picture frames with greeting cards/love letters displayed inside that John and I had given each other over the years.
– Embroidered handkerchiefs with each of my bridesmaids' names on them, which they carried down the aisle.
– Seating cards held together by a clothes pin, which we had spray painted a deep brown color with gold speckles.
– A bird cage for our wedding cards.
– A prop station where guests could grab silly props (like a viking helmet or boxer's gloves) and pose with them to take their own photos. We advertised the prop station with a handmade chalkboard sign that read, "Grab a prop and strike a pose."
…My something old: A vintage ring that had belonged to my great grandmother (who really was great), Emmy. My something new: My wedding dress, a Casablanca 1975, which had a low-back and was made from beaded lace appliqué. I love the dress and am determined to find another reason to wear it. My something borrowed: Pearl earrings and a beautiful matching pearl hair comb, courtesy of my lovely sister, Kate Lewis. I guess the fact that it was a "something borrowed" means that I should probably return it to her now that the wedding is over, huh? Sorry, Kate. My something blue: A Miami Dolphin's garter.
…My advice to brides during the wedding planning process would be the same as my advice for life in general: Remember that it's not all about you, don't take things too seriously and take a moment to step back and take it all in. And — above all else — don't let your husband use the hot glue gun! Haha! – Kristin, the bride
wedding coordinator: At Last Wedding + Event Design // venue: Paradise Cove // caterer: Puff n Stuff Catering // photographer: Best Photography // DJ: Junction 88 Productions // officiant: Brian Banks with Summit Church // flowers: The Flower Studio // cake: Sprinkles Custom Cakes // hair+ makeup: Darla Stafford  // rolls royce rental: VIP Transportation Group
No related posts found.