"Katherine and Roger were married in an intimate and beautiful ceremony at Secret Island on Kualoa Ranch. One of my favorite venues to photograph, the backdrop of the Koolau Mountains provided the perfect setting for this destination wedding. Katherine is an amazing clothing designer and she actually designed and hand-beaded her incredible wedding dress!" – Rachel Robertson Photography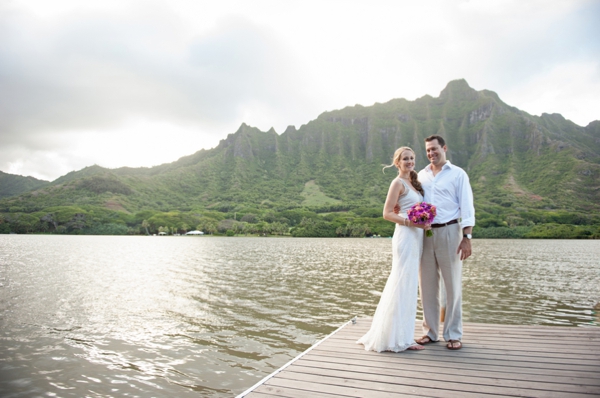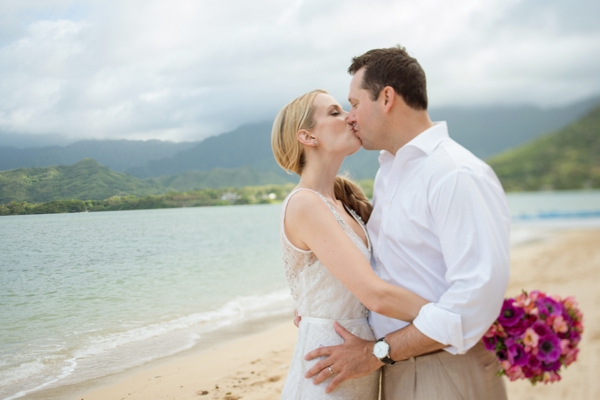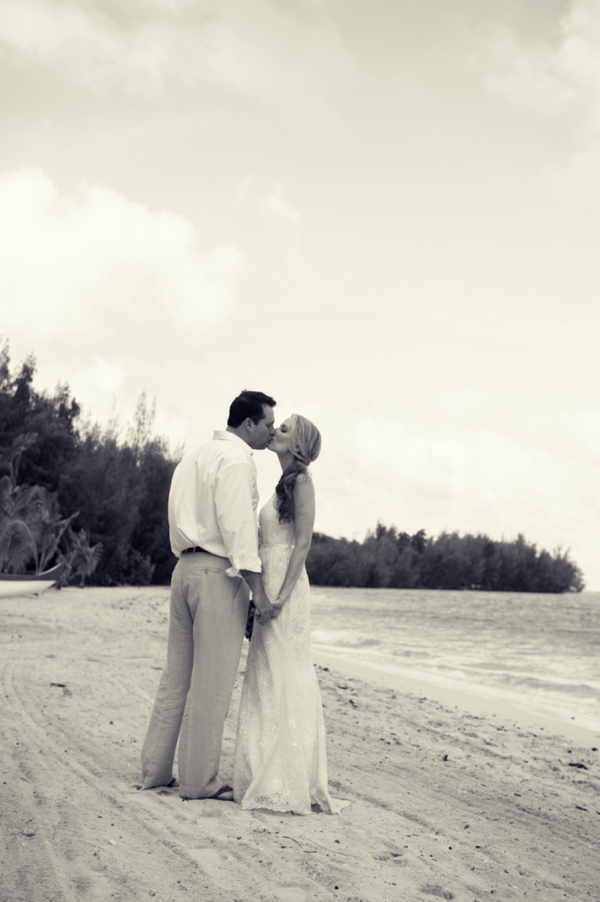 Can you believe that Katherine designed and hand-beaded her gorgeous wedding dress?!? Making your own wedding dress is the ultimate DIY project! What a very special project… Katherine you did a phenomenal job – you looked stunning!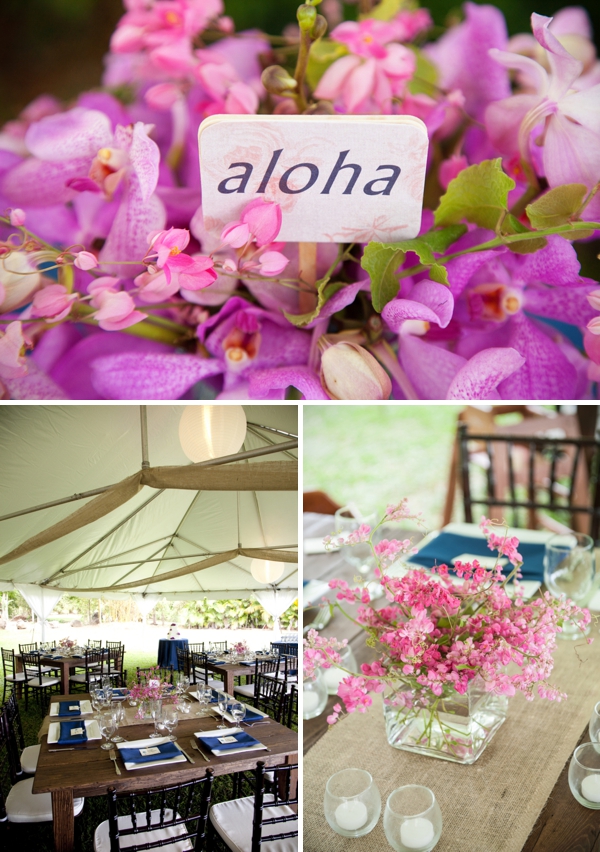 "I don't think I can name just one! We were thrilled that so many out of town guests could join us in Hawaii to help celebrate, with some coming as far as Munich and London! I love looking at the pictures and seeing our smiling faces all night long and remembering the wonderful event. It went by too fast, though, but what a great evening. Kualoa Ranch (North East Oahu) is magical with the mountains in the background. We boarded a boat to take us over the fish-pond for the beach-side ceremony. We wanted the "un-touched" Hawaii and to give our guests an unforgettable experience…
…I designed my dress with fabric bought from one of my favorite fabric stores in New York (I previously designed custom wedding dresses) and hand-beaded it which took about 30 hours of love. I loved it – it was perfect. Very comfortable, too! I wanted simple, beach-y, but elegant.
I also made the table place cards with a rubber stamp and my own calligraphic pen (fortunately I have decent handwriting!), I addressed all the invites, and made our "save the date" cards from Staples.com for about $45 (!). I also ordered the burlap to make runners for the wooden tables where the wedding planner could just cut them to fit. Keeping the look raw but elegant.
…Ahh, I had all but the blue. I wore my grandmother's diamond earrings, my neighbor's clutch that she used for her own wedding, but I didn't have the blue. I knew I was going to be barefoot so I didn't even have something to put in my shoes, so I brought a spool of blue thread with me to Hawaii to add a bow or stitch detail to my underwear but just ran out of time in the end!! Ha!! Navy blue was one of our colors so that counts, right?!? (I think your blue was the water!!! – Jen)
…Keep it simple and make decisions that reflect you two as a couple.   The "wedding industry" is a powerful and expensive industry.  No one will remember if you had favors or half of the other little details that you are going to stew over. Go with your gut and make yourselves happy first. Your guests will have a great time regardless." – Katherine, the bride
Photographer:  Rachel Robertson Photography // Caterer: Beaches and Backyards Catering // Event Planner: Alicia from Milestone Events Hawaii // Cake Designer: Paradise Pastries // Floral Designer: Tamara Rigney Designs // wedding dress: handmade by the bride! // makeup: Flaunt Makeovers // decor: Pacific Party Rentals // venue: Kualoa Ranch