I'm so excited about today's do it yourself! I love it!!! So easy, so cute, and so cheap! Here is how to make a super simple and totally unique way for your ring bearer to carry your wedding rings down the isle:
Start with an old book and two ribbons that flow with the colors of your book… hopefully you will find a book in the shade of your wedding colors. Here is a terrific etsy shop that sells fantastic, vintage colored books. I purchased my books for under $5 each at my local used book store. Each ribbon should be about two feet long so that you will have enough length to tie a perfect bow and cut away excess ribbon as necessary. Use any type of ribbon you would like – a smaller size (under a half inch) is best for the ribbon used to tie the rings on the inside of the book.
The most important tool in this DIY is the punch. Some punches are awkward to use and require a pushing down type motion which would be difficult for this craft. I highly recommend this type of squeeze punch from Fiskars, it was extremely easy and quick to use. You also need a pencil.
First, you need to choose what page you would like to show when you open your book to reveal your rings. It wouldn't look cute opened up to the chapters page or the dedication page… and each and every book is different – so pick your page. You will rip out the pages leading up to this page.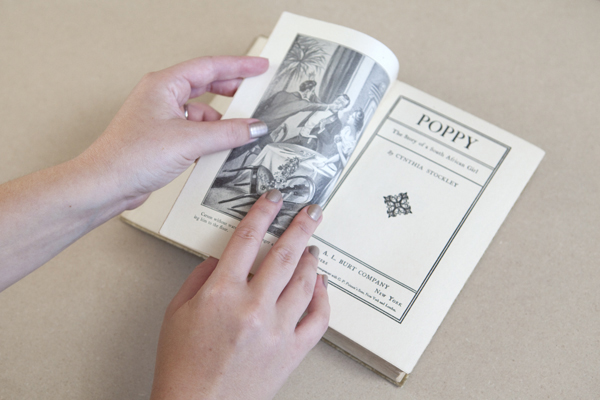 Tearing pages out of old books can cause the book binding to tear away from the pages, like below. If that happens use E6000 (my favorite glue) and glue the binding back to the pages, use a lot of glue.
Next, decide where you are going to punch. Push the punch as far forward onto the page as you can, and squeeze. The thickness of your book pages will determine how many pages you can punch at one time. For example, on the 'Poppy' book I could only punch two pages at one time, but with 'Love Parade' book I could punch four at one time…

The easiest way I have found to punch in the exact same place, is to trace the design onto the next page, then line your punch up and punch away. This means using every single punch hole, you will trace the spot for your next punch.

Punch until you have about 3/4″ to a 1″ hole in your book, you can always put your rings inside to measure if you have enough room for them. You can see as you get deeper into punching the book, how important a 'squeeze' type punch is compared to a 'push' type punch.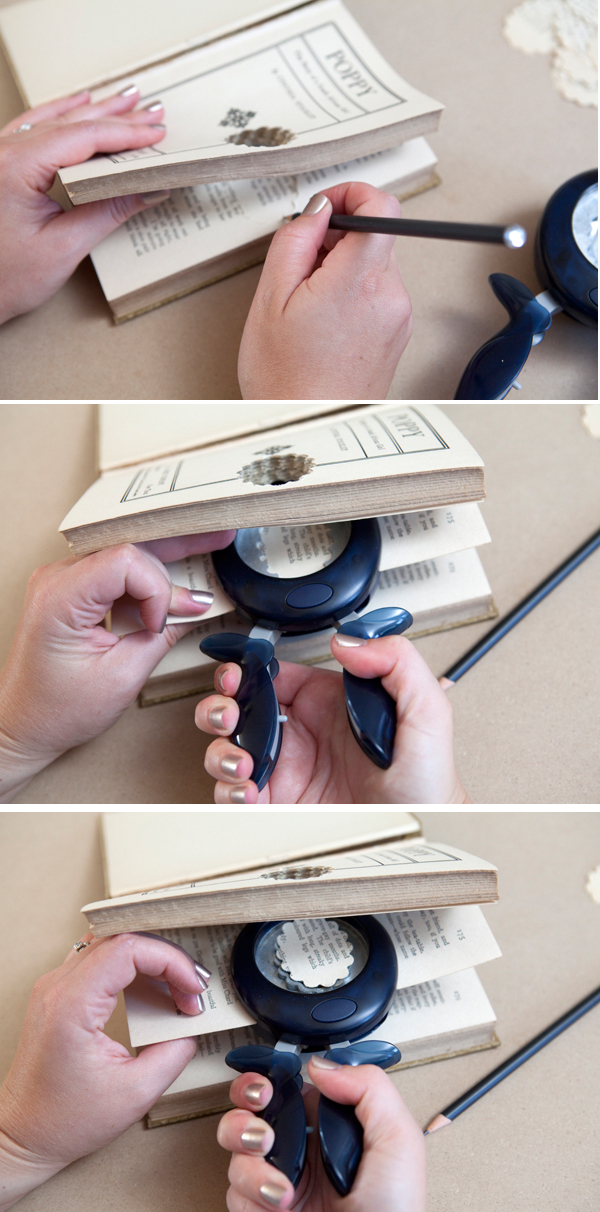 Once you have all your pages punched, you will tie your ribbons. Starting with the ribbon that you want to be on the outside of your book… thread it through the opening and tie a tight knot – no bow yet.
Tie the knot on the outside edge of the pages, so that when your book is closed it will not be closed on the knot.
Then using your second (and thinner) ribbon tie another tight knot and this time tie it in the center of the punched out hole.
When it's time… thread your rings onto the inside ribbon.
A lot of brides aren't having their ring bearer's carry the 'real' wedding rings down the isle (due to safety of the rings), and I completely understand. But, if you are having them carry your real wedding rings down the isle, make sure to tie a simple bow with NO knot underneath, to hold the rings. This is very important!!! The reason being, once carried down the isle, the rings will be easily removed with one pull from the end of the bow. If there is a knot underneath the bow… your poor groom will have to dig to untie the knot and remove the rings.
Since the ribbon holding your rings is smaller, the book will still close nicely. If you use a larger ribbon this might not be the case. Next tie your outer bow and re-adjust the inner bow to make sure it's tight and lays flat.
Then cut your ribbons to your desired length.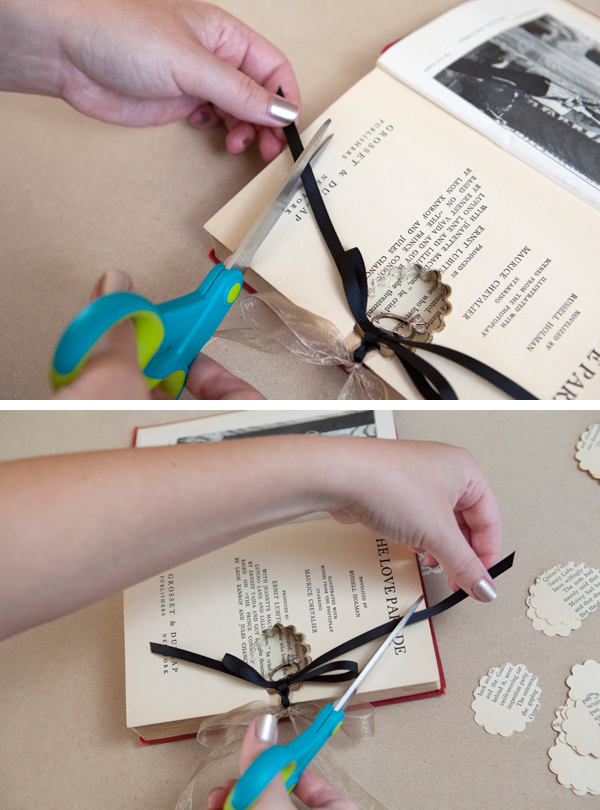 And there you have it! A beautiful, unique, and completely personal ring bearer "pillow". Adorable.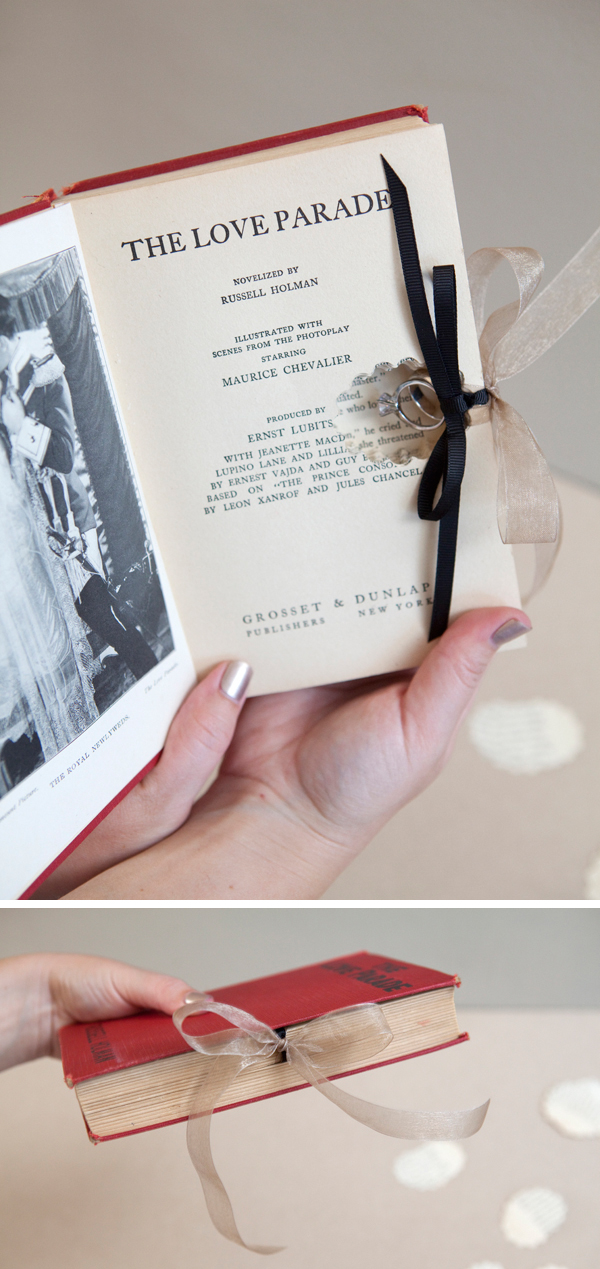 Here is a quick version of the tutorial working on the second book:
So darn cute.
Added idea! How cute would it be if your flower girl threw the punched out pieces from the ring bearer book… possibly along with other flowers or other punched pieces of paper!!!
As always, photography by my sweetie pie: Studio 11 // DIY – Jen | Something Turquoise
No related posts found.