DIY Wedding | Carmen + Megan
April 13, 2016
"On a gorgeous summer day, Megan and Carmen were married at Northfork Farm in Oswego, Illinois. This family-owned farm is still an active boarding facility for horses and the pasture was actually the backdrop for the ceremony. Their wedding was filled with so many personal and sentimental touches, it made the day even more special. Megan wore her grandmother's wedding dress from the 1960's for the ceremony and a special blue flower was placed in her bouquet in remembrance of her Mother. The same flower was then placed on a reserved chair during the ceremony. Megan hand-painted all the signs and centerpieces for the big day and their adorable pup Daisy was the flower girl! Daisy, with her little white dress and floral collar, even ran down the aisle to get to Carmen – it was simply the cutest! Megan did a first look with a stunning second dress right before the reception which was a fun moment! The reception included some of their favorite things, homemade cupcakes, delicious BBQ by Uncle Bub's, and Spotted Cow . . . yum! The most memorable part of the evening was Megan and Carmen's first dance. They danced to a video of Megan's mom singing an original song, which was played on a screen behind them. Her voice was beautiful and filled with so much happiness. Megan's mom was definitely watching and celebrating with everyone that night. Overall, Megan and Carmen's wedding was proof of their dedication to each other and the appreciation they have for their friends and family. It was rustic, romantic and absolutely perfect." – Ed & Aileen Photography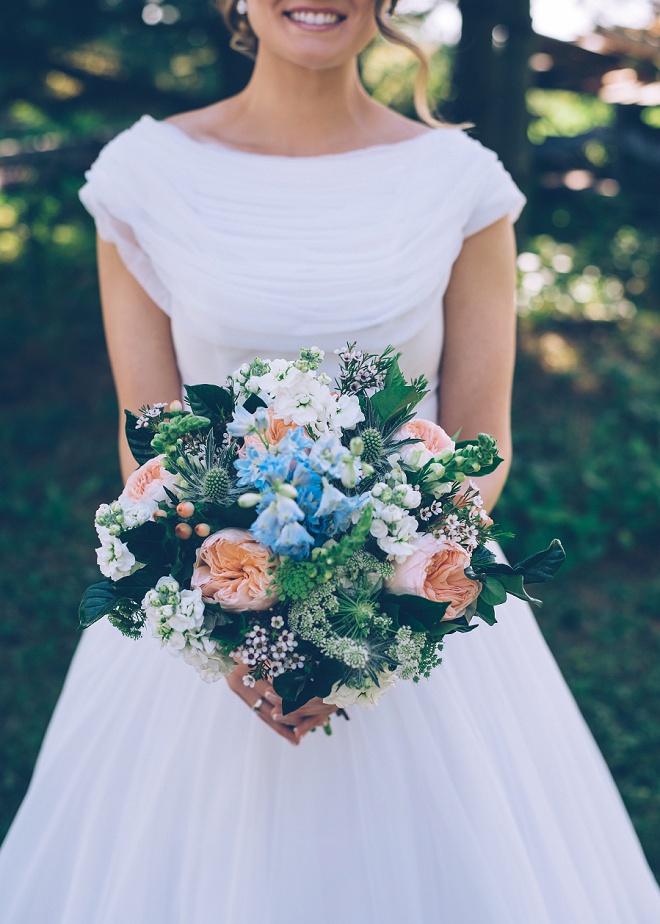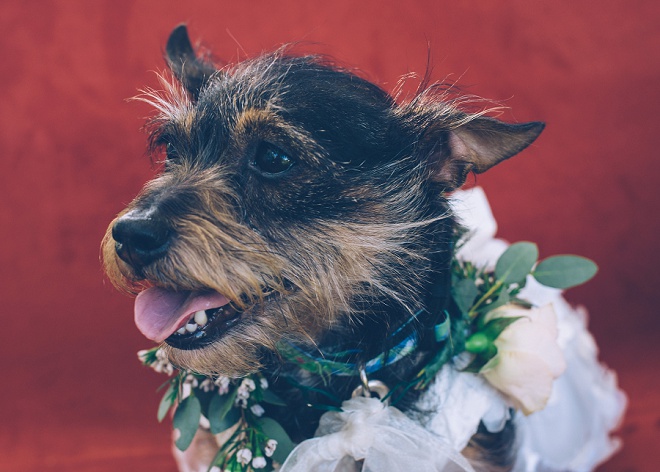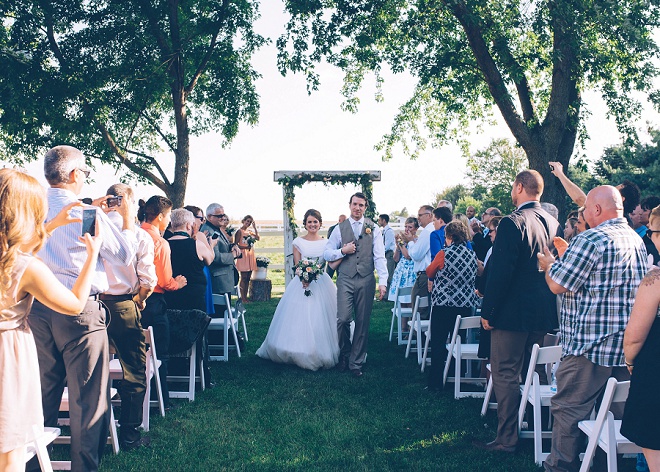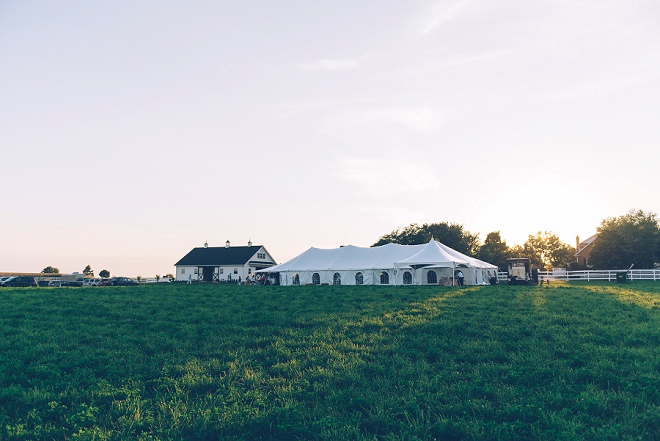 What is your favorite wedding day memory?
Right after the ceremony, we walked back up the aisle as Husband and Wife, and went into the small vintage barn to wait for guests to proceed to the cocktail area. It was just a few minutes that we got to share, just the two of us and our dog, and is still something we talk about today. We made a quick toast to one another and carried on with the rest of our incredible day spent with those we love.
What did you DIY for your wedding?
Our wedding came together piece by piece. When we found our venue, Northfork Farms, I realized there was a lot of freedom to do what we wanted with that space. Luckily for me, my Bridesmaids are extremely creative and were more than willing to help me bring my visions to life. We created all of the signs and decor used throughout the barn and tent. We painted all the mason jar centerpieces using chalk paint. We painted wine bottles to use as vases and wrote the table numbers on with chalk paint. I am also grateful to have the worlds handiest Father. The week before the wedding, my dad cut down a tree to create slices of wood for our centerpieces. He knew this was something I really wanted and he made it happen! He also created the place card display using twine and wood. We clothes-pinned the place cards to that. We also created a "Sweet Bar." Using different size jars and tins, we filled each with different candies and treats. For the cupcake table, I bought different plates and cake stands to create a fun display. The venue owners were generous enough to provide some decorations and burlap covered hay bales for extra seating. When it all came together, we felt a great sense of accomplishment!
Something old, new, borrowed and blue?
For my something old AND borrowed – I wore my grandmother's wedding gown for our ceremony. She purchased the dress in 1958 from Marshall Fields for $130. Two Christmas' ago, I tried it on just for fun and I loved it. I knew then that this dress not only was beautiful, but it held such meaning and history. I remember looking at wedding photos of her and my Grandfather when I was young, thinking she was so stunning. I was honored to wear it and have my Grandmother there with us to see me wear her dress.
For my something new – The night before our wedding, Carmen gave me a ring with my Mother's birth stone. It was such a thoughtful, meaningful gift that I will always cherish.
For my something Blue – I carried a blue flower in my bouquet and when I reached the end of the aisle, I placed the flower on the chair left empty in my mom's memory. Blue was her favorite color. I should also mention that our wedding day was 75 degrees, sunny and blue skies…I know that she had something to do with that.
Any advice for brides currently in the planning process?
Starting the planning is the hardest part. With so many ideas and styles out there, it's hard to begin. Just stick to your vision and be confident in your decisions. Add personal touches where you can, it makes it more memorable. – Megan, the bride
Event Credits
Photographer: Ed & AIleen Photography // Venue: Northfork Farm // Videographer: R.E.M. // Rentals: Top Notch Rental Services // Florist: Flowers For Dreams // Invitations: Minted // DJ: WIndy City Mix // Transportation: M & M Chauffeur // Catering: Uncle Bub's // Engagement Ring: Blue Nile // Ceremony Dress: Grandmother's Wedding Dress // Reception Dress: Weddings 826 // Hair: Dual Attraction // Make-Up: Mane Salon // Bridesmaid's Attire: ModCloth // Groom's Attire: Men's Warehouse // Groom's Shoes: DSW // Groom + Groomsmen Suspenders: Hey Sir // Groomsmen's Attire: Men's Warehouse // Wedding Favor Treat Bags: The Gala House