"Abby and Tate are one of the most genuine couples that you will ever meet. Abby was absolutely beaming with joy on her wedding day, as seen through her infectious smile! Aside from their beautiful must-read love story, we also loved the details of this wedding – especially with so many DIY touches from talented family members. Abby's cousin and bridesmaid designed and made her wedding dress using the skirt from her sister's dress. The Mother-of-the-Bride made all the floral arrangements and personal flowers, as well as attire for some of the bridal party and the dinner napkins. The wedding cake was made by the groom's cousin, who is a wedding cake baker and designer. Abby's engagement ring was even hand-made! Tate custom designed it to reflect her style and used his Mom's diamond from her ring. His parents decided to give it to Tate after she passed away as their way of setting their approval on Tate's future bride. All the details were perfect!" –Kristen Ley Green, Something New for I Do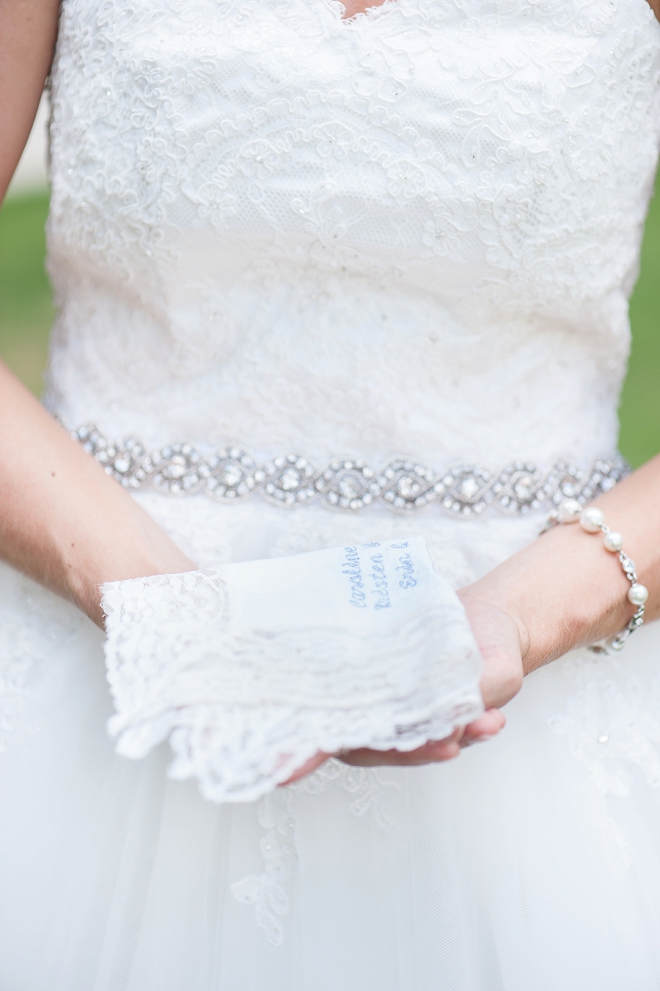 How did you meet your husband?
Tate and I met at a small gym in Athens, Georgia. I was a trainer and he was a gym member. Tate introduced himself to me in March 2014 and we would make small talk whenever he came in. In July of 2014 Tate came in to cancel his membership as he took a job with corporate Chick-Fil-A that requires 51 weeks a year of travel. As he cancelled his membership he asked me on a date! I guess he thought, "If she says no I never have to see her again, what have I got to lose?!" I eagerly agreed and we had the best first date. Tate says he knew on the first date that he would one day marry me. I knew on the second date that he would one day be my husband. Knowing he only had three weeks left in Athens before he hit the road with Chick-Fil-A we went on 12 dates in those 3 weeks and had the time of our lives. After that we relied on Skype dates to get us through. We only saw each other four other times in person before he popped the question.
How did he propose?
Tate flew home for the weekend in February of 2015. He wouldn't tell me a single detail of his plans other than when to pick him up and drop him off at the airport. I knew what he was up to but I had no idea when, where, or how he would ask. Friday night I picked him up and we drove back to Athens and spent the evening reliving our first three dates. Saturday morning, we had brunch at our favorite little brunch gem in Athens and then got ready for his big evening plans. All that he told me was to plan on dressy causal attire and that we needed to leave Athens to head towards Atlanta by 3pm. When we got in the car he told me that he needed to stop by his Dad's house on the way to pick something up. I didn't think twice about it! When we pulled into his Dads neighborhood his street was lined with cars, and when we parked in his driveway I knew what was happening… I saw all of my loved ones standing in windows watching and waiting for us. Tate walked me into the front yard and explained the importance of the ring he had custom made for me using his Mother's diamond, expressed his love for me and his excitement about our future. Then right there in front of over 50 of our closet friends and family he got down on one knee and proposed!
What was your overall vision for your wedding?
Simple elegance. We wanted our guests to cherish it just as much as we did. We also wanted to have a great wedding on an affordable budget. For our colors, we chose navy, blush and gold. These colors work so well together and made for a timeless, elegant look. For our venue, we chose The Corner District because we wanted a more intimate wedding. We had only 120 guests and we fit comfortably in that space. Plus, I love simple charm and antiques that speak for themselves. The Corner District had everything I wanted. The old, original hardwood floors, the plaster walls, the exposed brick, massive windows and gorgeous chandeliers. The venue speaks for itself, you didn't need excessive decorations to make it beautiful.
We also chose The Corner District because of Debbie Ley, co-owner. The moment I met with her I felt at ease. She was the most helpful venue owner I had come by. She wanted to make my vision come to life and respected that we wanted to do much of it ourselves. She gave us recommendations along the way and helped in so many ways but really let us craft the wedding that we wanted. She gave us the option make it as turn key as we wanted or to let us create it for ourselves. She truly made the whole process seamless.
Special wedding day memories?
My cousin and bridesmaid Heidi Hunt designed and made my dress by hand using the skirt from my sisters wedding dress. It was also very special for us to have Dean Ropp, longtime friend and Pastor, perform our ceremony.
Another important thing to note was the significance of my Father being well enough to walk me down the aisle and dance with me at the reception. He was diagnosed with metastatic liver cancer the Thanksgiving before and we were not sure if he would still be here to give me away. He fought so hard to make sure that he was and I will forever cherish that memory. -Abbby, the Bride
Event Credits
Venue: The Corner District // Photographer: Katey Penton Photography // Catering: Scott Boys BBQ Food Truck // Hair Stylist: Chelsey Wilkes of Bloom Hair Designs // DJ: MSA Entertainment // Wedding Coordinator: Winey Blonde Events Co. // Bride's Attire: Forever His Modest Bridal Formal Wear
No related posts found.