Looking for a fun way to personalize champagne glasses for your wedding? This easy project will make terrific bridesmaid gifts, or wonderful toasting glasses… but even if you aren't planning a wedding these glam glasses make drinking champagne even more fabulous!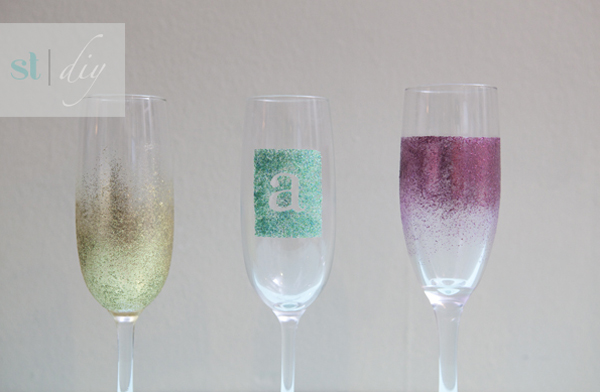 SUPPLIES :
Martha Stewart Crafts paint in your choice of glitter color
Martha Stewart Crafts foam paint pouncer
Champagne glasses
stenciling tape
alphabet stickers
little dish for your paint Start by cleaning your glasses with alcohol and making sure they are completely dry before you start painting. Since we are using the Martha Stewart Craft Paint, after these glasses cure… they are dishwasher safe!
STYLE ONE:
Gold Glitter. For the first design, I wanted to make the glitter look like it was sneaking up the glass from the base. So that is where we will start 'pouncing' the paint onto the glass. Using the foam pouncer ensures an even coverage of glitter paint.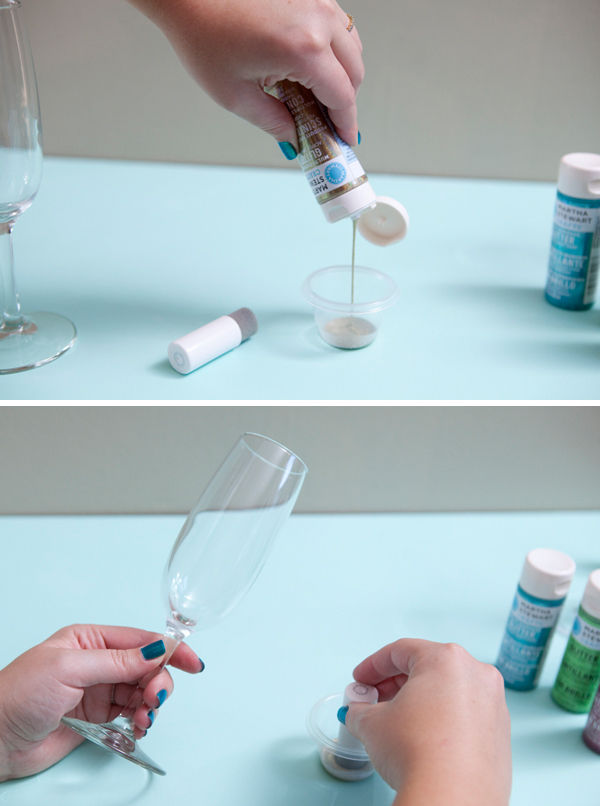 Just keep dabbing and dabbing until a good coverage of glitter starts to develop. All three styles will need at least two coats of paint and at least one hour of drying time in between each coat.
Carefully twist and paint your glass. To get the look of the glitter fading up the glass, paint less towards the rim…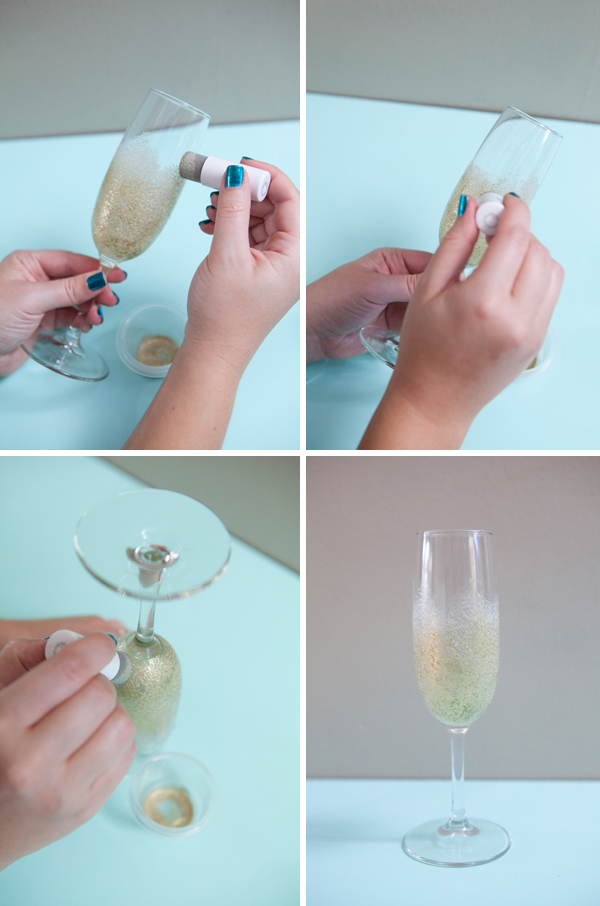 …and paint it more towards the base. I turned my glass upside down to make it easier to paint the base.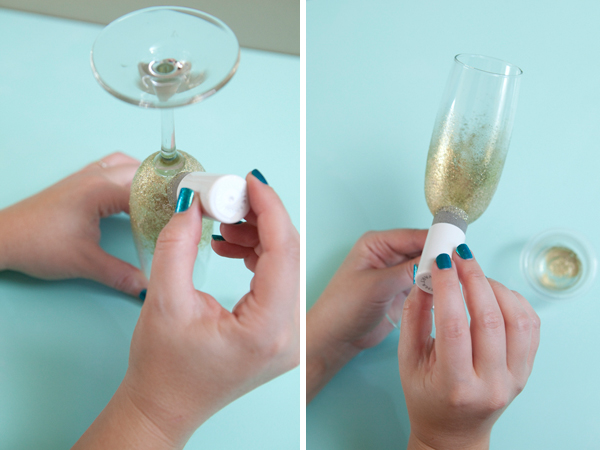 Cure The Paint For Dishwasher Safe Glasses:
Add the bubbly and you are done! This paint is non-toxic but should not be near where your lips will touch the glass, so try to keep the paint at least 3/4″ away from the rim of the glass.
AIR CURE: after painted, let your project air dry for at least 21 days – no using or washing. After the 21 days is up, the paint will be completely cured and will be ready to use and wash – even on the top shelf of the dishwasher.
OVEN CURE: put painted glasses (that have dried for 72 hours) on baking sheet and then into a cold oven. Turn to 350* and set the timer for 30 minutes, turn the oven off and let the glasses cool down inside the oven completely. The gradual warm and cool will carefully cure the paint and not harm the glass!
Paint Update 12/1/12: it is now stated on the MS Craft Glitter Paint bottle that their 'glitter paint' specifically should not be oven-cured. Sorry, if you want these to pretty glasses to last you must wait 21 days! I don't know of any problems that oven curing causes, but the bottle says air cure only!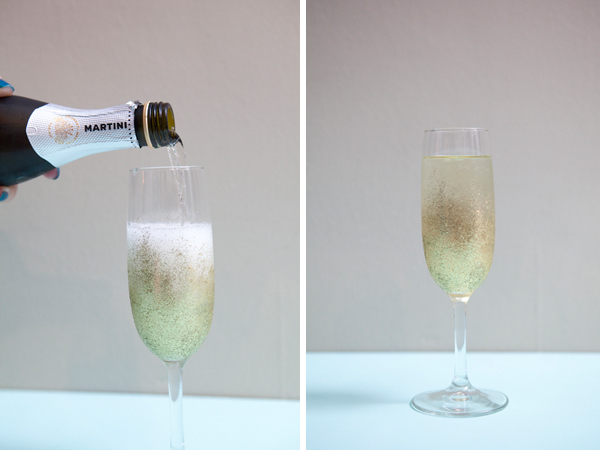 STYLE Two:
Personalized Monogram Glass. If you read my DIY from last week I included a personalized champagne glass in the 'will you be my bridesmaid?" box that I created… this is the glass from that box. In this example you will need letter stickers for your monogram. Start by choosing your letter of the alphabet and placing it on your glass, nice and firm.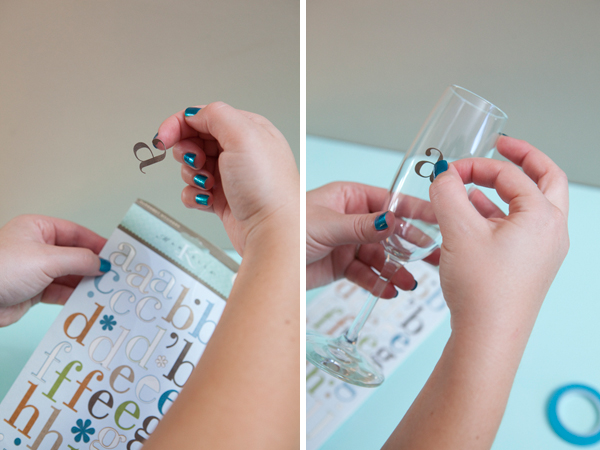 I wanted to create a box around my monogram so I taped it off using Martha Stewart Craft Paint Stencil Tape. Be careful with the curve of the glass, measure it out if you need to and don't get discouraged if it takes you a few times to tape it off evenly. It is worth the struggle.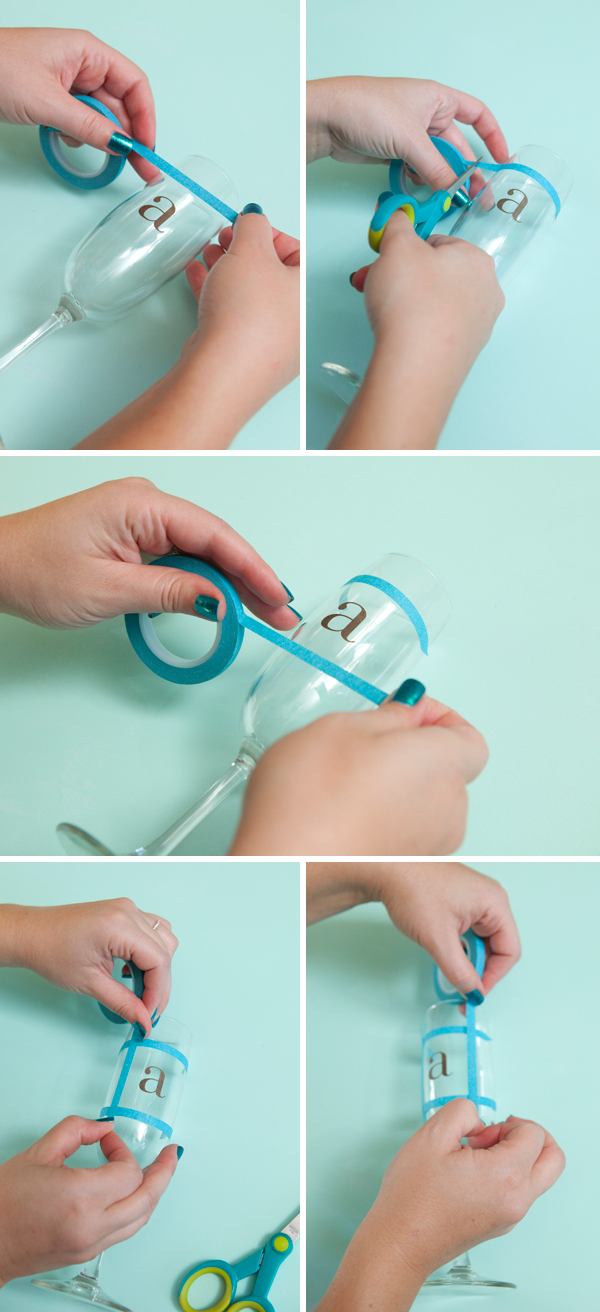 Since of course I wanted a more dimensional turquoise glitter paint, I mixed both blue and green together.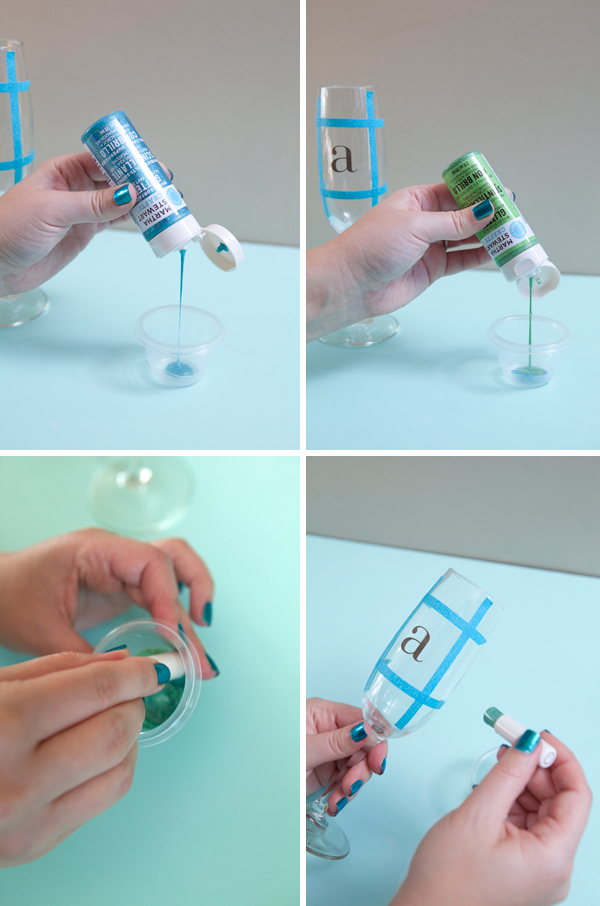 Then using my smaller size pouncer I started pouncing with my mixed paint. Since I wanted a really bold monogram square, I used three coats of paint, with an hour of drying time in between each coat. A good way to check the glitter coverage in this design is by taking a peak from behind.
Once the paint is partially dry, carefully pull the tape and the sticker monogram off. You might even want to softly slide an Exacto knife along the edge of your design and the tape to make a clean brake. If any edges pull up – push them right back down. If any paint bled under your monogram sticker, using your nail gently scratch it away. The paint will be permanent once cured. Note: if you are using a swirly, thin edged type sticker – you might need to very carefully pull the sticker off before the paint dries, to ensure that the design shows completely and doesn't peel the rest of the paint with it.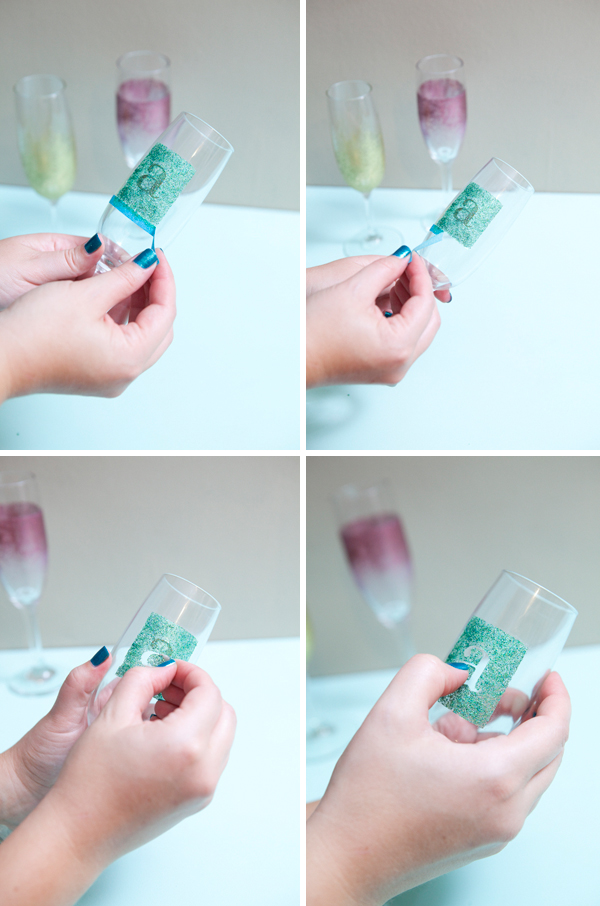 Cure your glasses and you are good to go! Isn't is SO cute!!??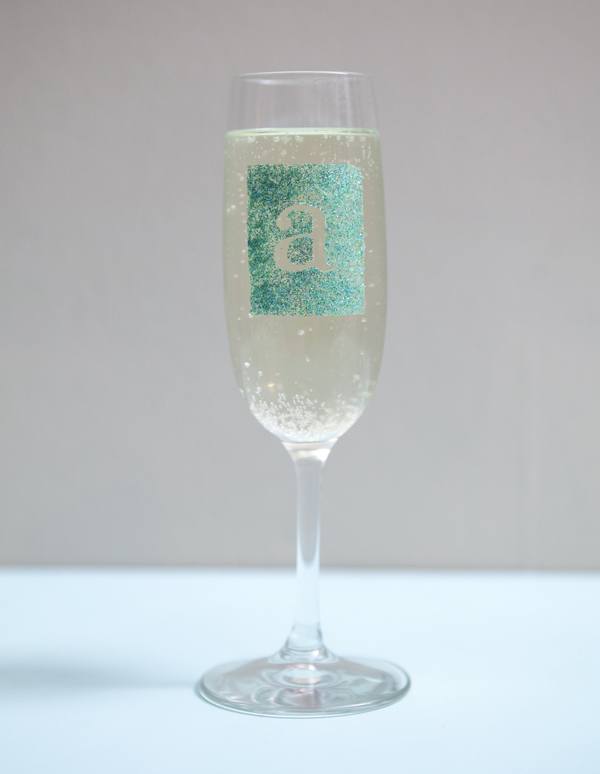 STYLE Three:
Pink Glitter. For this design I wanted to create the opposite look of the gold glass… hot pink glitter sneaking down the glass away from the rim. Since the paint should be kept away from where you will sip your drink, I chose to start this design about 3/4″ below the rim. I taped my line using Martha Stewart Craft Paint patterning tape… be careful with the curve of the glass, it might take you a few times to get the tape line straight.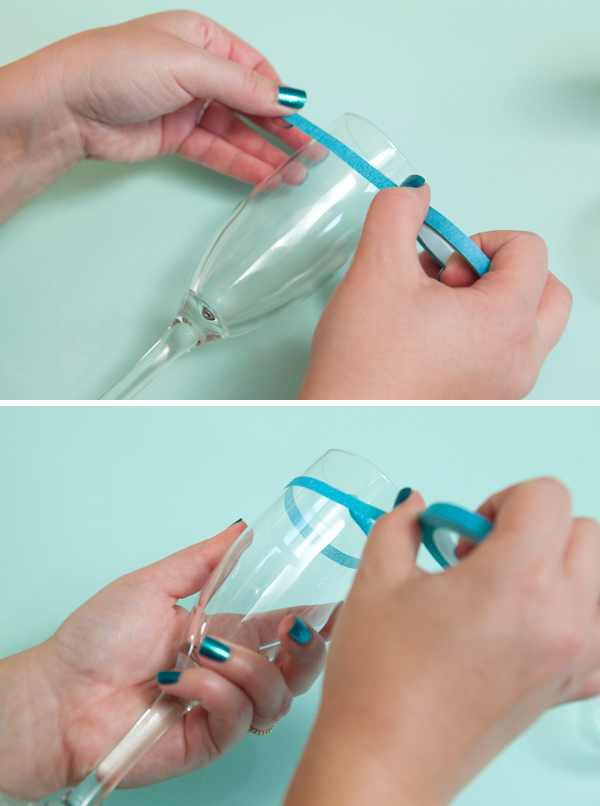 Again, using a pouncer start dabbing the glitter onto the champagne glass. I did two coats of paint, with an hour of drying time in between each coat.
Just like the gold glass, dab much more glitter paint onto the top of the glass and much much less towards the bottom of the glass. So that it looks as if the glitter is falling down the sides of the glass. When the paint is partially dry, remove the tape – you can even softly run an Exacto knife along your design and the tape for perfect tape removal.
The gold one is probably my favorite… but they are all SO cute and easy!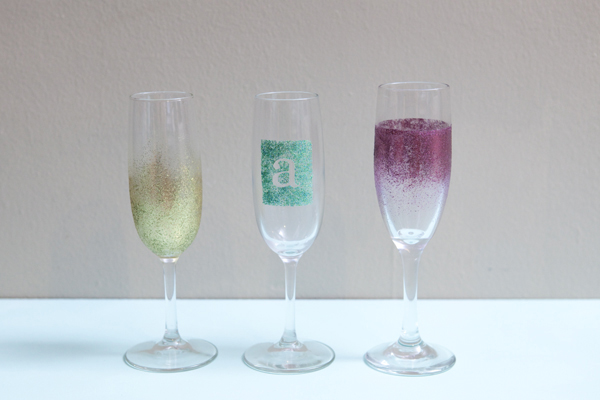 PROJECT UPDATE 08.27.13
I've been waiting a very long time to bring you this wonderful news!!! Ever since we featured this tutorial, internet crafters have been wanting to use 'loose glitter' and decoupage glue to make this project. Guess what!?! Now you can!!! Martha Stewart Crafts just came out with a brand new line of decoupage glue that is dishwasher safe… that's right you won't loose a sparkle! Here is our updated tutorial: Loose Glitter Glassware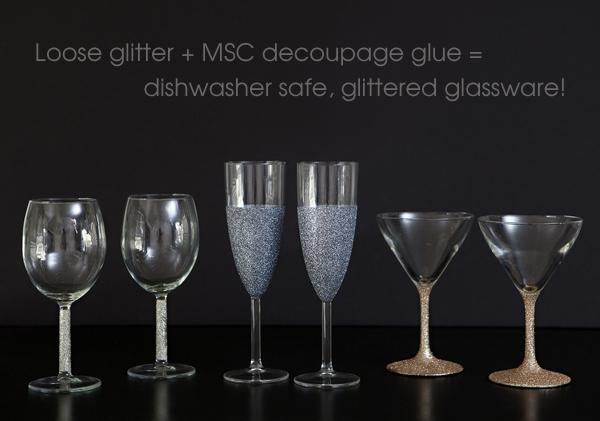 LOVE THIS PROJECT?
Then you'll love this tutorial as well: Painted Stemless Wine Glasses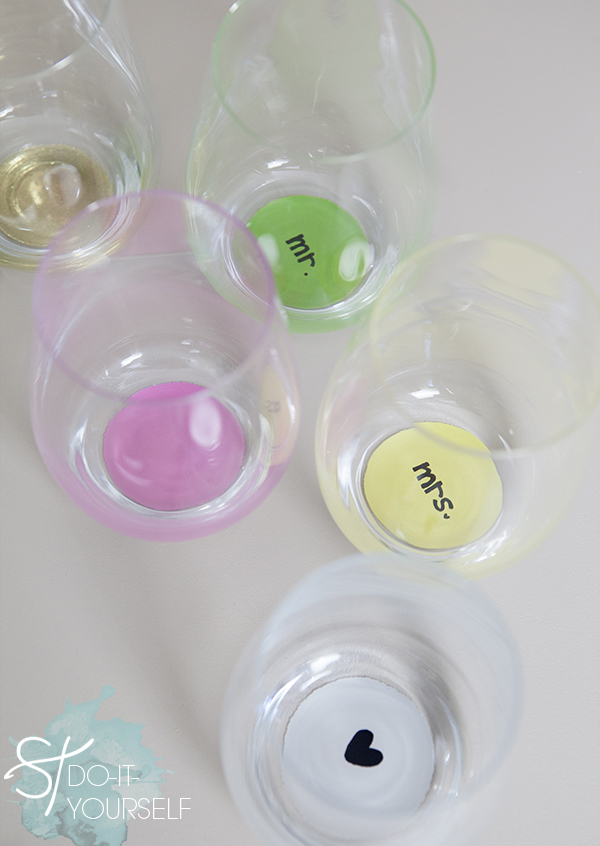 As with all our DIY tutorials, if you create one of our projects please send us a picture – We Love Seeing Your Creativity! If you use Instagram or Twitter please use the hashtag #SomethingTurquoiseDIY and it will show up on our Get Social page. Happy Crafting!
DIY Tutorial Credits
Photography: Something Turquoise Photography for SomethingTurquoise.com // DIY tutorial: Jen | Something Turquoise // champagne glasses: Cost Plus // Martha Stewart Crafts Glitter Paint in; Florentine Gold, Peridot + Turquoise, and Tourmaline, Martha Stewart Crafts foam pouncers and stencil tape, and Marcella K letter stickers: Michaels.com // nail polish: Fly by OPI
Shop The Supplies:
Find the supplies you'll need for this project from our affiliate links below:
No related posts found.